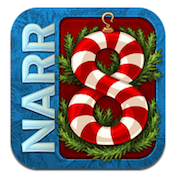 Price: FREE Score: 9/10 Category: Entertainment
NARR8 is an iPad app for entertainment, developed by NARR8 Limited. While the highlight right now holiday content, there is a whole host of cool sci-fi, nonfiction, and other types of unique content for users to enjoy.
The idea behind NARR8 is to provide users with dynamic motion comics, graphic novels, and nonfiction. Each series offers an entire universe of episodic content. There are some really awesome projects, such as the creepy psychothriller Fear Hunters, or the slick series Spin, about a smooth-talking, political PR guy who makes big problems go away.
Also cool: Prodigal Angel – motion anime comic about a character with the ability to "possess" other people, and the trouble this kind of power can cause. More interested in non-fiction? Check out Chronographics, a nonfiction series that explores world history from a unique perspective.
I was really impressed with the high production values of each series. For a free app, the art and concepts are just top-notch. This is an entertainment service unlike anything else out there, and I really enjoyed browsing their impressive archive of stories. Everything is free, and updated on a regular basis.
I love the interactivity, as well as the high quality sound elements in each series. I also love how many different visual styles and unique genres there are to explore. There really is something here for every taste, which I really wasn't expecting.
The latest version of the app, Version 1.0.3, contains the special holiday series, as well as some performance upgrades so that users who are still working on a 1st gen iPad can have as nice of an experience as possible.
There's nothing better than finding a new favorite app, and I think I just found mine. NARR8 is going to take up all my free time, and chances are, you'll love it, too.
NARR8is compatible with iPad. Requires iOS 5.1 or later.