A hobby no more? Today, the Apple Store added a new section, putting the device on par with the iPhone, iPad, Mac and iPod, dedicated to the Apple TV. While the move may merely be recognition of the hobby puck's rising status, some think a new Apple TV is just around the corner.
Previously, the Apple TV was subsumed inside the iPod section of the Apple TV. However, as reported by Apple yesterday, iPod unit volume and revenue fell by half, perhaps prompting the Apple TV's Apple Store promotion.
What's inside? In addition to both new and refurbished Apple TVs, shoppers will find cables, accessories and AppleCare protection plans — yeeha.
However, the real buzz surrounding the Apple TV's Apple Store promotion is the (growing?) likelihood that a major hobby puck revamp is coming soon.
Specifically, GigaOM speculates that a new Apple TV might allow closer integration with cable and satellite providers' set top boxes. Such a move would likely make real cord cutting all the harder — good for corporations, bad for us.
Additionally, 9 to 5 Mac has rumored that a new Apple TV will include an integrated Airport Express (802.11ac) wireless router. Given that these two products live inside nearly the same enclosure, this isn't much of a stretch.
New Apple TV: Who Will Win?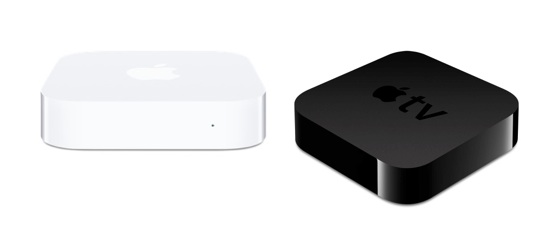 However, the feature users have wanted since Steve Jobs first introduced the Apple TV is gaming and access to the iOS App Store. That is, like the iPhone and iPad, the Apple TV runs iOS on an Apple "A" series processor and, so goes the speculation, could easily play games and run apps.
Additionally, while the current model — third generation, rev A released in January 2013 — offers only 8GB of storage, Apple could easily update the internals to accommodate game play and app usage.
So, what if anything will Tim Cook's Cupertino crew do — Closer corporation cooperation? Integrated Airport Express router? Or, will we get the holy grail, a new Apple TV with games?
Sound off with your new Apple TV observations in the comments below…