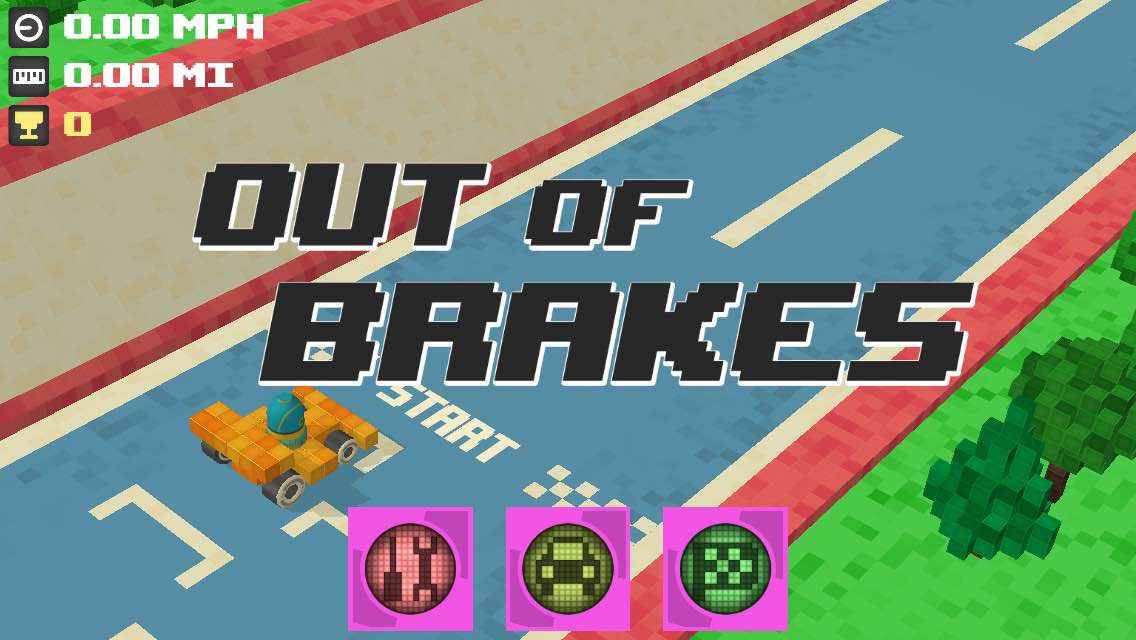 Why Out of Brakes?
From Levgen Litvyon comes Out of Brakes, the new race car game for iOS and Android. However, it seems as though we have played this game before it was even released. The app resembles the same objective as "Flappy Bird," "Temple Run," and others like it. The goal of the game is to steer your car, which happens to have no working brakes. By hitting water barrels one actually gains points and if they steer off the road then they lose. Are app creators running out of ideas? Yawn.

Background
Whether it be a 77.7MB waste of storage or not, Out of Brakes does come free in the app store. The newest updates have vehicle optimization, shadow optimization and unique environments per vehicle. Hard to say if this app will shoot off and become the next big hit, but I wouldn't be surprised as "Flappy Bird" was able to shoot off and cause stress in everyone's life that bought it.

Gameplay
The game starts up with its menu screen, which isn't very appealing. Did the developers really think those colors were the best? Purple, green and red? The user at this point has the option to choose their car, edit settings, or to play.
When the user chooses to play the app, the program undergoes a tutorial every time. Even if the user has played the game multiple times he/she must undergo the basic tutorial to learn how to steer the car, which obviously becomes very annoying to say the least
While the car is continuously speeding up the user can hit water barrels to slow down the speed. Sounds familiarly like "Temple Run", continuously speeding up.
If the car hits the obstacles then the game is over and the player loses.

Summary
Been there, done that. This app is very similar to the popular apps that already dominate the top charts in the app store, therefore I see this app going nowhere in the near future. Unless you are a simple person who can enjoy a basic game, then this app will bore your mind. It just seems as though app developers are running out of ideas lately.
[appbox googleplay com.litebox.DoodleRace&hl=en]