Apple kicked the tar out of Samsung — it ain't over 'til it's over — in court and that puts Windows Phone 8 in the driver's seat, right? Perhaps, but a lot of things have to go right for the newly minted Lumia 920 vs iPhone 5 battle to go well for Microsoft and Nokia.
Samsung handsets running some iteration of Android currently lead the market with the various flavors of iPhone coming in a distant, depending on the market, second place. Nevertheless, with the iPhone 5 introduction coming September 12 and shipping product hitting stores September 21, Apple's smartphone is still the one to beat.
That said, how does the Nokia Lumia 920 stack up against the iPhone 5? As far as "speeds and feeds" go, which isn't very far, it seems to be a pretty fair fight.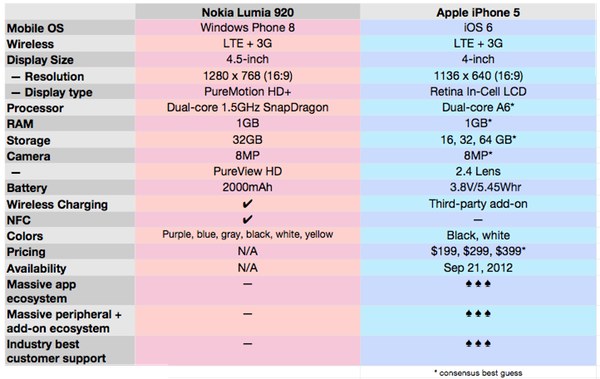 Of course, Apple hasn't announced iPhone 5 specs or, for that matter, even what the sixth generation device will be named. However, the consensus iPhone 5 configuration has firmed up nicely in recent weeks.
Nevertheless, the Lumia 920 vs iPhone 5 battle for dominance isn't about speeds and feeds — product ecosystem and customer support matter greatly to consumer and business buyers. In this arena, the iPhone 5 dominates.
Does the Nokia Lumia 920 stand a chance in the market against the iPhone let alone Android? Or, is the war already over except for the shooting?
From this observer's perspective, things are only now just getting interesting in the smartphone space. Make no mistake, Nokia's Lumia 920 is a gorgeous device and operating system is smooth, refined and presents (almost) no danger of attracting Apple's legal ire…
What's your take?
via 9 to 5 Mac, Engadget, The Verge