We've heard about the OnePlus 3 and side by side, we have also heard about the successor that is going to be appearing with a Snapdragon 821 that was earlier teased by Qualcomm courtesy of a tweet not too long ago. As far as name calling goes, OnePlus 3T was the rumor spreading vastly, but according to the Geekbench benchmarking run, it looks like the company might have some other plans as far as the official model name goes.
According to the benchmarking screenshot, OnePlus Pixel can be seen running the latest version of Android, which is Android Nougat 7.1. Aside from carrying a large number of additions that come with Android Nougat 7.1, this will also make the smartphone Daydream ready. In addition to sporting better hardware, Daydream requires you to be running Android 7.0 as a bare minimum since this software update provides support for the Vulkan API, which ups performance even in areas where the graphics processor is being stressed a lot.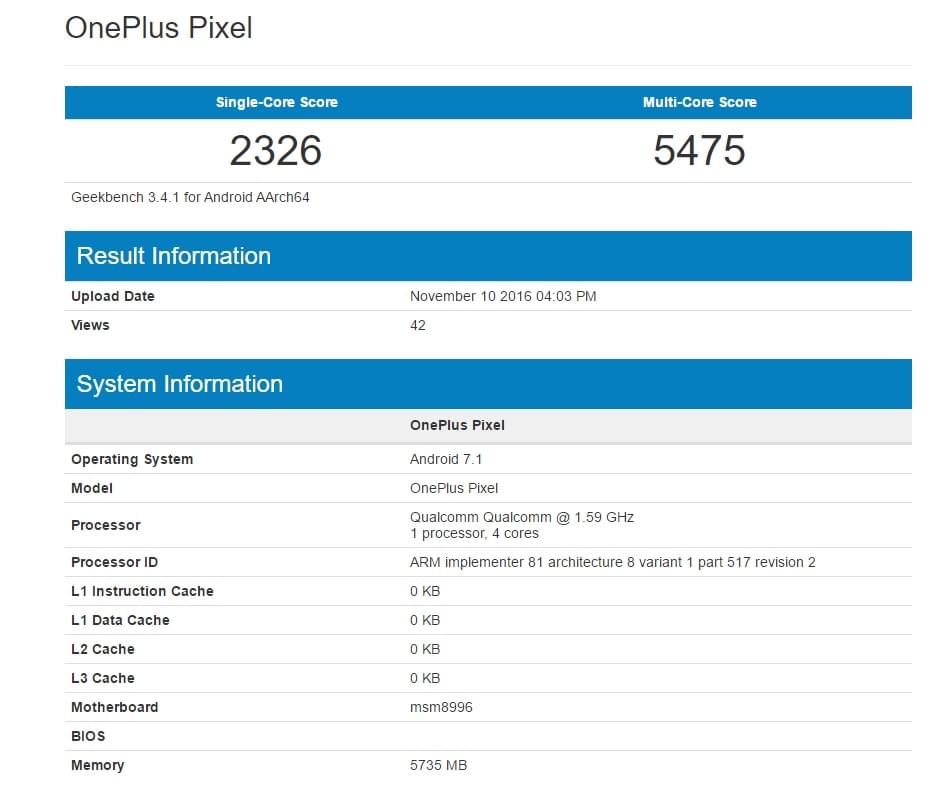 Qualcomm has already said that you will require a Snapdragon 821 to run Daydream, and it looks like the alleged OnePlus Pixel has made the cut. While we still think that the official name is going to be different than the one listed in the screenshot, one evidence that this is the upcoming flagship that's going to be unveiled on November 15 is the amount of RAM present. The OnePlus 3 came with 6GB of RAM and we don't think that's going to change with the successor.
The upcoming OnePlus smartphone successor is also expected to feature 6GB of RAM, along with a better camera sensor compared to the one stacked inside the Snapdragon 820-powered handset announced not too long ago. The design language is expected to be retained, but that battery capacity needs to be increased. The name OnePlus Pixel might have been an error on Geekbench's part, which is why we'll provide you with the latest details when it is officially announced.