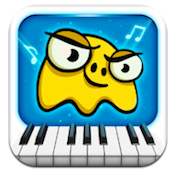 Price: FREE Score: 8.5/10 Category: Education
Piano Dust Buster is an iPhone app developed by JoyTunes. Now updated with Christmas songs, this educational app is a perfect "stocking stuffer" for the holiday season.
Piano Dust Buster helps users learn to play songs on the piano. Users can use the on-screen piano, or a physical piano to play along with the guide on the screen.
Piano Dust Buster is a good choice for kids, as there are some endearing on-screen characters that will help to motivate them. As you play each song, you are propelling a fastidious granny to clean away "germs" from the screen. Each "germ," coincidentally, is equivalent to a note.
There are plenty of different game modes, so there are practice modes that will appeal to first-time piano players, as well as beginner players who have a bit more experience, and even "expert" players.
"Germ Attack" mode helps players find the right rhythm for the songs. As they play the correct note when the germ reaches the rhythm line, they will be rewarded. The "Staff Master" mode places the cascading germs on an actual blank bit of sheet music with a staff, to help them get used to reading music. In both cases, each piano key is labeled with its corresponding note.
While it is free to download, you can make some in-app purchases to unlock some additional content. All Song Packs will set you back $13.99; alternatively, you could sample one of the smaller in-app packages, like the $3.99 Holiday Blast pack. I do wish the song library was a bit bigger.
Whether you want to help a kid learn music, or want to brush up on your old musical lessons from when you were young, Piano Dust Buster is a fun, engaging way to learn the piano. The ability to play a real piano along with the app is a genius touch, and ensures that players will be able to transfer their skills from a touchscreen to the real instrument.
Piano Dust Buster is compatible with iPhone, iPod touch, and iPad. Requires iOS 5.0 or later.