Apple News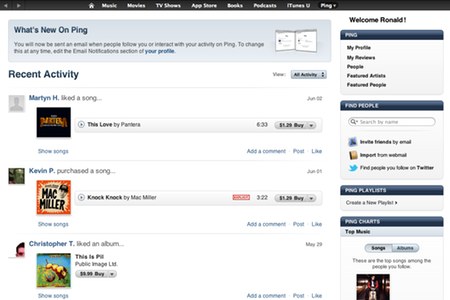 Well, that didn't take very long at all. Apple introduced iTunes Ping in September 2010 and now less than two years later it appears that the service will be shut down. With Facebook now firmly integrated into iOS 6, as well as OS X Mountain Lion when it ships in July, Apple is said to be wrapping up its first and only branded stab at social networking.
At this year's All Things D Conference, Tim Cook told Walt and Kara that, "We tried Ping and the customer voted and said, this isn't something I want to put a lot of energy into. Some customers love it, but there's not a huge number that do, so will we kill it? I don't know. I'll look at it."
Apparently, the looking is over and the killing is coming in the next big, if not whole number, release of iTunes. All Things D, quoting sources "close to the company," claims that iTunes Ping is present in iOS 6 but inactive.
See also: — Top 10 Hot New Features in iOS 6
Further, when Apple next releases a big iTunes, likely this Fall perhaps in conjunction with the release of the new iPhone and iOS 6, Ping will be removed and shutdown.
Why haven't Apple's online ventures been successful? Dot Mac, MobileMe and now Ping have all been miserable failures…
What's your take?
via MacStories