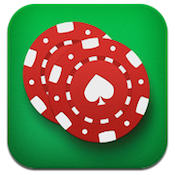 Price: $2.99 Score: 10/10 Category: Games
Whether you're a guy or a gal, there's a wannabe card shark in all of us. If you've been watching "21" and "Ocean's 11" on repeat, why not take your poker game to the next level withPoker Tools, an iPhone app developed by APPGRANULA.
If you have a secret dream of winning big in Vegas, this handy iPhone app can help give you the training you'll need to get your poker game improved by leaps and bounds. Poker Tools offers a whole host of extremely useful tools and reference materials to make you the king or queen of your next game of Texas Hold 'Em.
Arguably the best part of the Poker Tools app is the ability to calculate the odds of having a winning hand. Just enter the cards in your hand, and the probability of winning will be instantly calculated.
But since your fellow players won't be happy if you use the odds function during a game without their knowledge, they may enjoy playing with Poker Tools' timer function. This function increases your adrenaline during every game by increasing the bet at given time intervals throughout your gameplay.
Poker Tools is also a great reference tool for beginning players. The "Who Win?" function puts arguments about who's hand is better to rest with no need to fight, while the "Hands" tool is a simple visual list of all the winning hands in Poker from a single pair to a Royal Flush.
The interface in Poker Tools is wonderfully smooth and intuitive. Not only is it easy to enter your cards quickly, Poker Tools also automatically folds after entering a flop, turn, or river with great illustrations of the cards that are very easy to read.
If you want to be a real life card shark, Poker Tools is a great iPhone app to hone your skill. Who knows? With enough practice, you might just become the next Danny Ocean.
Poker Toolsis compatible with iPhone 3GS, iPhone 4, iPhone 4S, iPod touch (3rd generation), iPod touch (4th generation) and iPad. Requires iOS 5.0 or later.A small expedite fee was paid by the developer to speed up the publication of this iPhone game review.