[googleplay url="https://play.google.com/store/apps/details?id=com.herocraft.game.protoxide&hl=en"]
TheProtoxide: Death Race Android appis a post-apocalyptic hi-tech race & battle game by HeroCraft Ltd. Playes can use their war-gliders to trump foes throughout a single player campaign, offline skirmishes as well as via a built in online multiplayer mode.
One thing Protoxide: Death Race offers is an abundance of content. There are twelve different types of war-gliders and sixteen tracks in four separate locations – most of which need to be unlocked. You can play a quick race or enter the campaign mode, which is where you have the chance to unlock more advanced vehicles and creative race tracks.
There are three types of races: a simple Race where you battle other war-gliders to finish first, Deathmatch, where you need to destroy a certain number of enemies, and Survival, where you need to destroy all the enemies to win the game.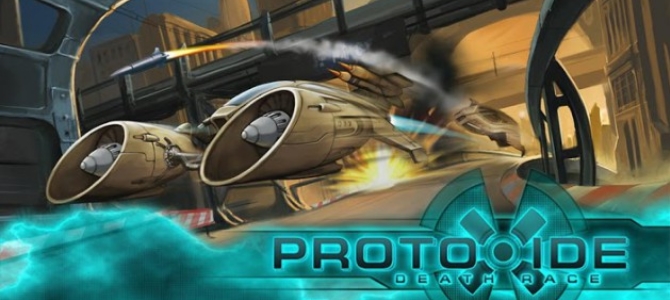 The fun really starts when you get to grips with the gameplay. Initially, the steering can be difficult to master, as this is done by tilting your phone from side to side. The sensitivity can be changed in the settings, however, It would have been nice to see a button based steering option included alongside the tilting option.
throughout the race, bonuses can be picked up which will increase your 'Nitro' and health bars. Nitro can be powered up for short bursts of extra speed, which can give you the edge over your opponents. Your health will be diminished if you fail to avoid enemy rocket fire. This can be done with your shield, or via some handy steering.
To destroy enemy war-gliders, a target automatically appears over each opponent. All you need to do is stay close enough to hold them in your sight so that the target locks. After a short delay, your accumulated arsenal of rockets will begin to shoot automatically. If you're being attacked, there will be a triangular symbol above you so that you know to either avoid the shots by "hiding into a turn" or using your shield.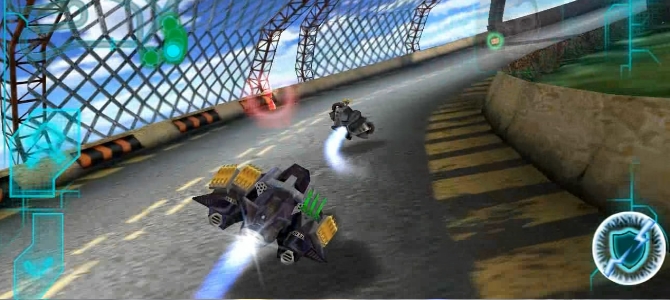 HeroCraft Ltd developed Protoxide: Death Race over a year ago, and unfortunately, this is reflected in the in-game graphics. It certainly isn't going to blow you away with fancy graphical eye candy, but so long as you can take the graphics for what they are, you'll have tonnes of fun both offline and online.
Despite the graphical drawbacks, the amount of unlockable tracks and vehicles should keep things interesting for a long while. Not to mention the smooth, action-packed gameplay keeping Protoxide: Death Race pretty darn addictive.
Protoxide: Death Race costs $0.99 and will work on any device running Android 2.2 or greater.