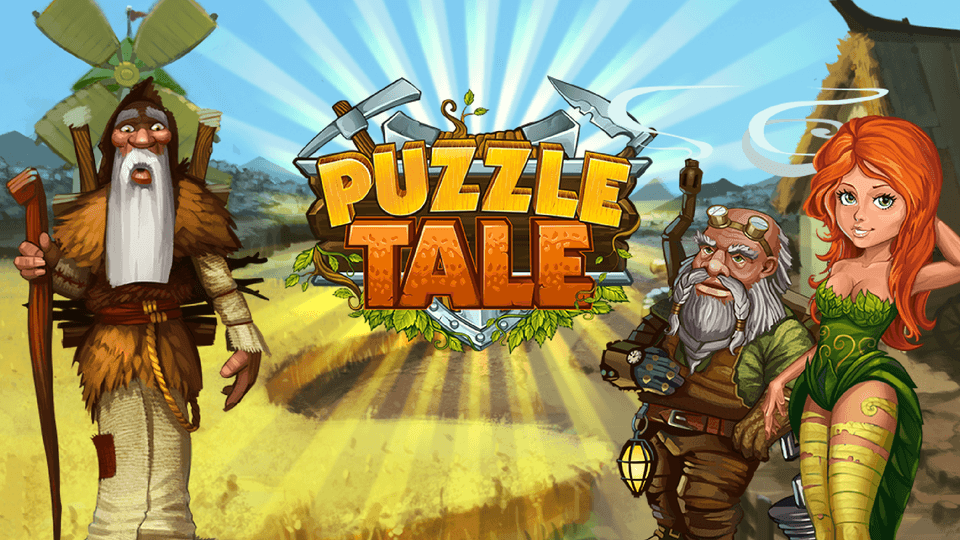 [app url="https://itunes.apple.com/us/app/id882668953?mt=8″]
Puzzle Tale, published by Renatus Media LLC is a game that combines basic city building and resource gathering gameplay with match 3 puzzle playing. Puzzle Tale offers an enticing style of gameplay which might just get you hooked in the pursuit of hoarding resources and growing your town to the max.
The basic goal of the game is to rebuild and grow your fallen kingdom by farming for resources and building buildings. The farming mechanics of the game are based around match 3 puzzles where you must swipe across tiles to match 3 or more of the same kind. This is a fun and challenging way in which you collect resources for your town. You can enter the field, forrest and mine to farm for different resources. Once collected you can then use these resources to build and upgrade buildings in your town.
Each of the three farming areas have a unique limiter to make it more challenging. The field is move limited so you need to collect as many resources as you can within that move limit. The forrest is limited by a health bar. You use food resources to fill the bar before you start farming the forrest. The once the health bar is emptied by monsters that appear your turn is over. The mine is time limited so you have to race the clock to collect as many resources as you can. This variety in the farming games makes each one fun to play and keeps you on your toes unlike many other mundane farming games.
Puzzle Tale is more than just a match 3 puzzle game however. You can trade items, upgrade skills, breed animals, and master crafts to rejuvenate the economy and progress through the levels to rebuild your kingdom to its former glory.
Puzzle Tale also includes pay-to-play/freemium features where you can spend real money to speed up the process and build your town much faster.
Puzzle Tale requires iOS 4.3 or later. Compatible with iPhone, iPad, and iPod touch. This app is optimized for iPhone 5.