If you want to access to your data anywhere, you can store them into cloud drive. In fact, cloud service is very popular nowadays. Except public cloud drives developed by big technology companies, there are also private cloud drive build by yourself via ownCloud or FTP/SFTP, WebDav, etc online storage platform. However, people like experiencing new things. That is to say, many people have more than one accounts of cloud drives. Like me, I own Dropbox, OneDrive and Google Drive. I often store different files in different cloud. Sometimes, I would like to transfer files from one cloud drive to another. There are also many people in order to get more online space, registered more accounts. Thus, questions come. How to manage them efficiently? Install all apps on device is not a good idea. What about only one app to combine them in one place? That's great! MultCloud is an app based on website, which means you even don't need to install an app – just use MultCloud through browser.
No matter browsers on desktop, laptop, mobile phone or tablet device, MultCloud has strong compatibility. Either touch screen or mouse can operate in MultCloud. Now, let's see how to use MultCloud. Input domain name and visit MultCloud. Create an account or choose Experience without signing up.
The first time to enter in MultCloud, it will ask you to add clouds in it. MultCloud supports Dropbox, Dropbox for Business, Google Drive, Box, Amazon S3, Amazon Cloud Drive, SugarSync, Alfresco, hubiC, Evernote, OneDrive, OneDrive for Business, MEGA, Egnyte, pCloud, CloudMe, Cubby, MyDrive, WEB.DE, Yandex, HiDrive, MySQL, Flickr, MediaFire, ownCloud, ADrive, BaiDu, WebDav and FTP/SFTP so far. Once added cloud in MultCloud, next time you entered it will show you cloud's information.
Under Cloud Explorer interface, it realized accessing all online files with a single login, searching files from all clouds on a single interface, create, upload, download, rename, cut, copy, paste, preview, share through windows explorer type service. Upload and share function are very powerful.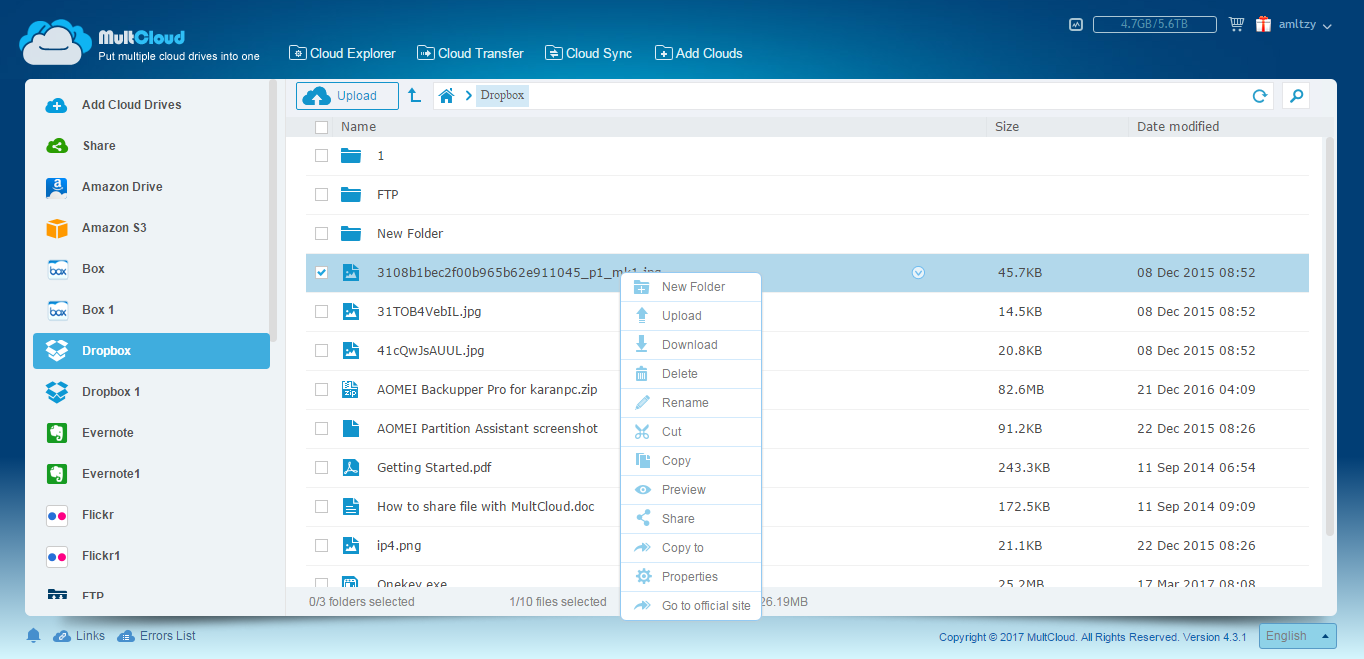 Cloud Transfer is MultCloud's key feature. Besides simple copy & paste, drag & drop. MultCloud provides professional transfer. Schedule automatic cloud file transfer a regular interval like daily, weekly, or monthly. Email notification available for completion of data transmission and "Filter" system. MultCloud transfers even after power off.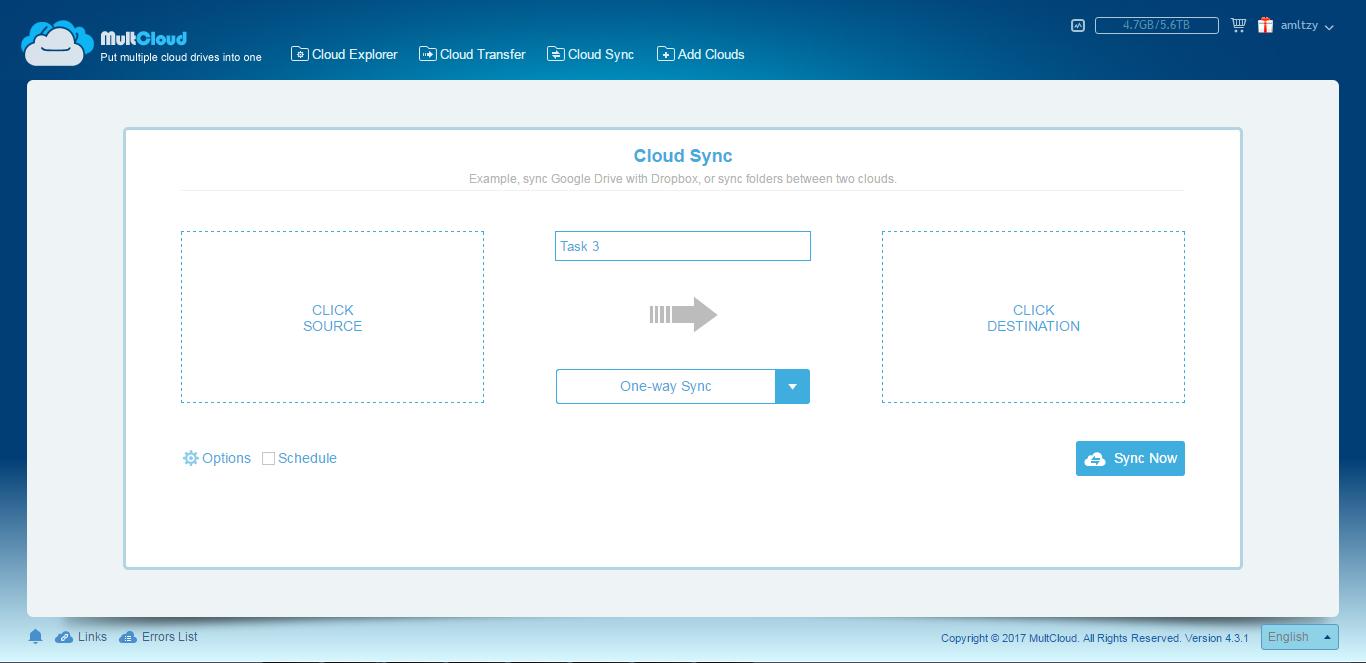 Cloud Sync is another key feature of MultCloud. There are "Two-way Sync" and 7 custom options in "One-way Sync" to achieve synchronization between cloud services. Settings are similar to Transfer. MultCloud supports multi-server parallel transmission so that you can check transfer, sync, backup task in Task Manager.
MultCloud applies at least three security guarantees: Website connect and data transfer using 256-bit AES encryption for SSL. Access cloud drives with OAuth authorization and doesn't record your password. Does not save or cache your data and files on MultCloud servers. We highly suggest you to use MultCloud's points system to get more traffic for moving. MultCloud even released a Google Chrome extension, once you added it on your Chrome toolbar, you can check and manage all your transfer tasks, go to Google Drive web edition just by clicking a small icon.