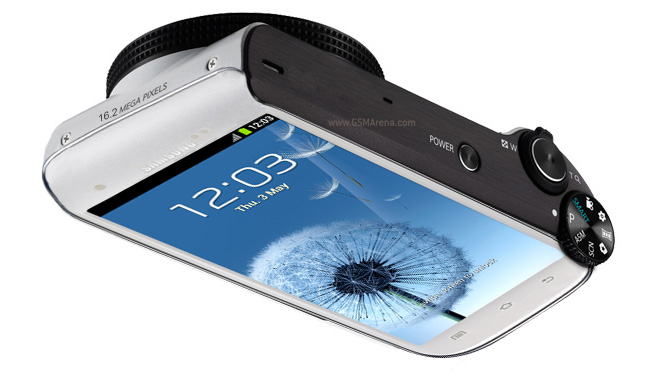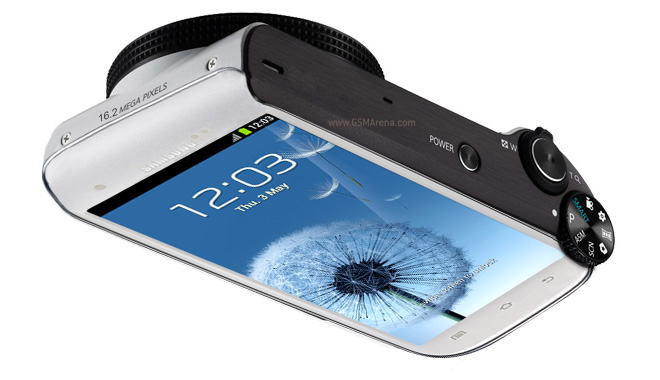 Recently Nikon announced it was getting in the smart-camera business with the Android-based CoolPix S800c. Essentially the Nikon camera is an ICS media player device that also doubles as a 16MP camera.
While the Nikon camera is undoubtedly targeted at a limited niche, it seems that other companies might be interested in getting in on the smart-camera action as well. A new rumor has hit claiming that Samsung might also be working on its own point-and-shoot camera that runs on Android. The camera is rumored to be called the Samsung Galaxy S Camera.
From the sounds of it, such a device would utilize a 4.8-inch SuperAMOLED screen and IC. Think of it as a Samsung Galaxy S III with an improved lens and the removal of voice features. The rumors also mention that two models are in works. One model is designed for just WIFI, the other will also allow 3G connectivity.
Other features expected to arrive on the camera include a 10x zoom, a thickness that's 1.5 to 2 times thicker than the S3 phone, a pop-out Xenon Flash, and a 16MP sensor.
It's hard to say whether there is any legitimacy to the rumors, but as a media player and camera system, this could be pretty cool. Imagine shooting a bunch of high-resolution photographs and than quickly uploading them to the net, adding to Facebook and elsewhere.
Samsung Galaxy S Camera- Good Idea or Not?
If you had to pick between a smart-camera, would you go with a Samsung Galaxy S Camera or would you rather stick to Nikon? One thing you have to wonder about though is pricing.
The Samsung Galaxy S Camera sounds quite a bit more powerful than the Nikon offering, which starts at $350. If the less-powerful S800c is that pricey, how much is a 3G-capable camera going to run you? Could the camera be sold cheaper through a two-year data contract, instead? At the same time, the idea of paying for 3G data on a camera, admittedly, sounds a little silly.
Does the idea of a smart-camera appeal to you at all or would you rather use a regular P&S digital camera?
Via: GSM Arena