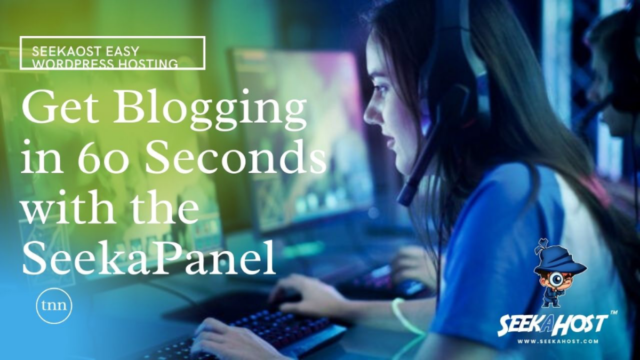 If you are a video gamer looking to expand a gaming career online, then you should host your own blog or website and you will need a control panel for that.
The most used content management system for websites is WordPress and it is recommended to use WordPress hosting platforms as hosting with them is optimized for WordPress. The most established control panels like cPanel or Plesk offer a much wider range of features that are often preferred by web developers.
However, it is not the case with SeekaPanel by SeekaHost, which is an easy-to-use WordPress hosting platform built by ClickDo software developers that aim to make website hosting as smooth and fast as possible. As a gamer you will have experience of using control panels for game server hosting such as Minecraft game hosting for example. So, you may find that the SeekaPanel offers a similar user experience and features.
Why Choose the SeekaPanel as a Gamer?
If you want to start a website or blog to share your gaming expertise, you can start a WordPress blog in 60 seconds with the SeekaHost blog hosting control panel.
This WordPress hosting review of the SeekaPanel will demonstrate how to register a new domain and host and manage your WordPress website easily with the SeekaHost control panel.
So, to get online with your first website to become the next video game influencer.
What is SeekaHost About?
SeekaHost is a web host offering affordable online possibilities such as domain registration, web hosting, email hosting and game server hosting plus additional learning resources for WordPress and digital marketing with the eLearning platform SeekaHost University.
The best thing about SeekaHost is that its services are tailored to private and business requirements and are flexible. You can get WordPress hosting for your first website for $1.49/month without compromising on the speed, security, and reliability of the web hosting.
However, premium plans for 10 websites at $12 per month are available for customers looking to scale their online presence and build a digital real estate portfolio.
SeekaHost offers different hosting services such as SEO and PBN hosting, VPS, and Dedicated Server hosting.
However, currently customers can only use the SeekaPanel in combination with WordPress Hosting or PBN Hosting plans. Because PBN hosting is more suitable for several basic WordPress websites, this review covers more about the SeekaHost WordPress hosting plans so that you can start a more complex and scalable WordPress blog with the SeekaHost WordPress control panel.
Compare the hosting plans first before you go ahead and take the next steps to buy a domain and hosting with SeekaHost.
SeekaHost WordPress Hosting Review: Pricing & Plans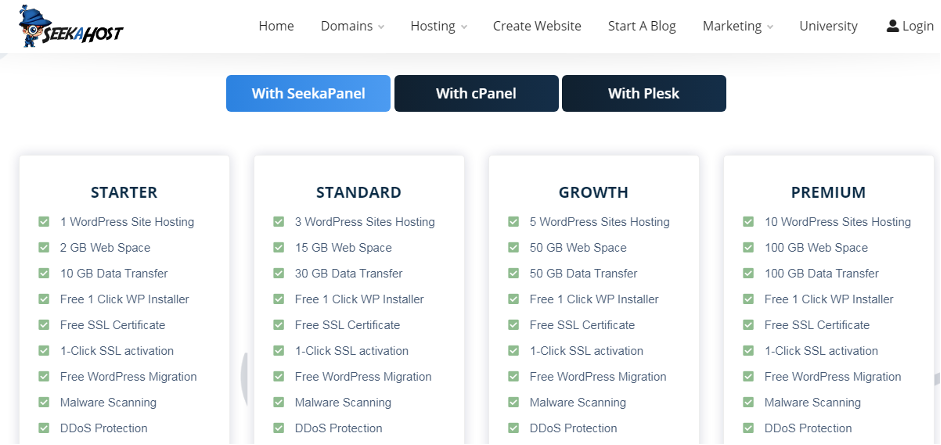 A choice of 4 different WordPress hosting plans with the SeekaPanel.
For beginners and gamers that do not have much time to invest in managing their websites, the SeekaPanel is the best option. It is simple to use to manage your domains and websites and launch your WordPress sites with a few clicks in minutes.
Starter: $1.49/month
If you are starting out with a single blog, then choose the starter plan annually billed at $12. With the one-click WP installer your website goes live in 60 seconds and you get 2 GB disc space, 10 GB bandwidth, DDoS protection, free SSL certificate with 1-click installation, which will be enough to start with. This plan does not offer remote support, but the SeekaHost customer service team can help via the ticket support system. If you enjoy adding lots of videos or graphic content then this plan may not work for you for long, but you can easily upgrade your plan within the SeekaPanel's subscription section.
Standard: $5.50/month
The standard plan offers all the features of the starter plan with more disc space of 15 GB, 30 GB bandwidth and you can host up to 3 websites. It is ideal, if you want to build simple websites to support your gaming business such as blogs or forums.
Growth: $8/month
Looking to manage up to 5 websites for your gaming activities? Choose the growth plan that offers up to 50 GB disc space and bandwidth while having access to remote WordPress support so that your websites always run smoothly and provides your audience with entertaining gaming content.
Premium: $12/month
Run up to 10 websites with the premium plan that includes 100 GB disc space and 100 GB bandwidth. The plan offers both remote WordPress support and remote tech support so that you will not have to worry about any web hosting or WordPress issues while you're busy gaming.
How to Create a WordPress Blog with SeekaHost?
With the SeekaPanel and the SeekaHost WordPress hosting you can start a WordPress website seamlessly in a matter of minutes. So, here we go with the quick and simple steps to get your blog online.
1. Register your Domain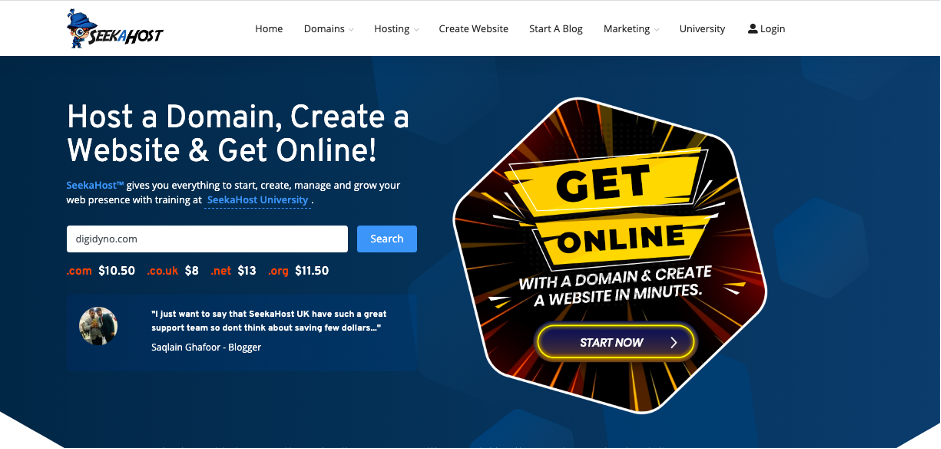 Any WordPress site needs a domain name to be visible online, just like a house needs an address to be found.
To register a domain, go to the official www.seekahost.com website and enter your preferred domain name in the search bar, then press the search button. The search results will show you if the domain is available or not and the alternatives you can choose from.
If your favourite domain is available, click on "add to cart", and create your new account. Once your account has been created, you can register and login to the SeekaHost WordPress control panel and proceed with checkout. You can buy a .com domain name at just $10.5 per year.
Now your domain needs to be hosted with a suitable hosting plan to launch your WordPress website.
2. Pick a WordPress Hosting Plan
Create a new account with the SeekaHost.app to purchase a WordPress hosting plan of your choice. Upon successful registration, you can continue with the hosting plan subscription.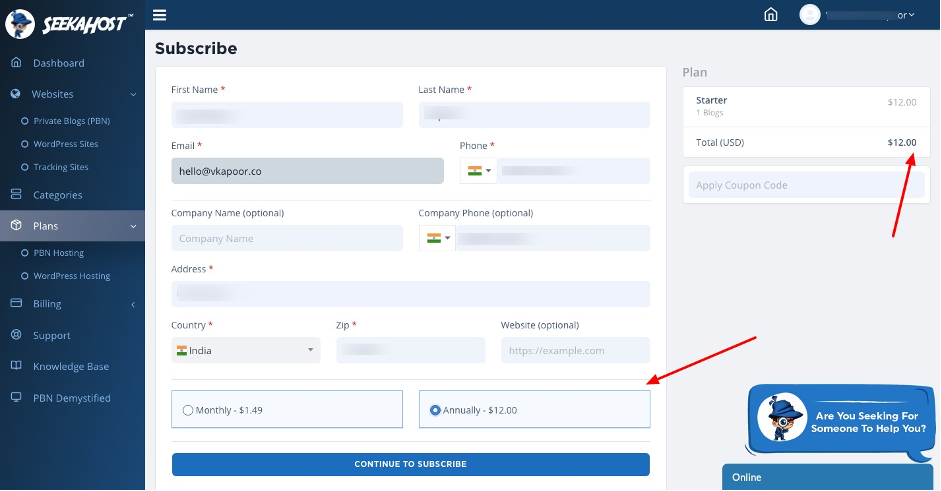 Enter your payment details and proceed with the final payment. Now you have a domain and a WordPress plan, but there are few more steps before your site goes live.
3. Set up a WordPress blog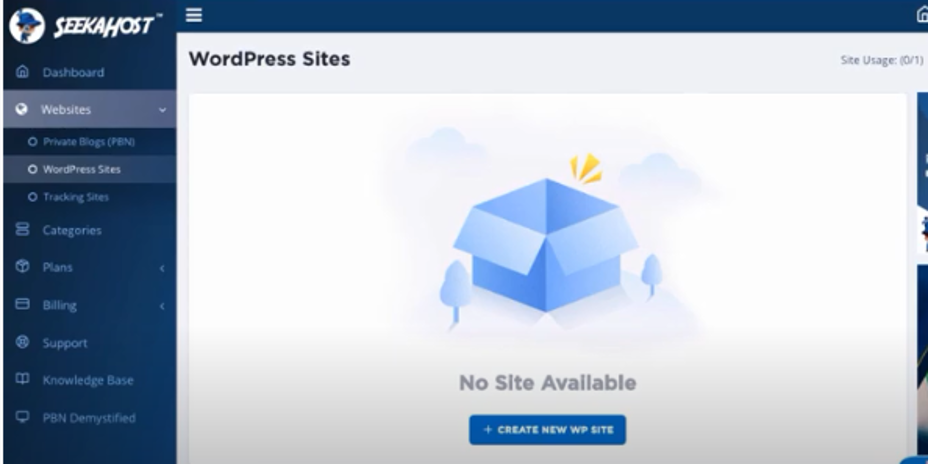 On the left side of the control panel, click on "WordPress sites" and then click on "Create New WP Site".
This is a one-click WordPress installation that integrates your domain in 60 seconds. Enter a few details like your domain name, and website title and your WordPress website is ready to go online.
4. Update the Domain Name Servers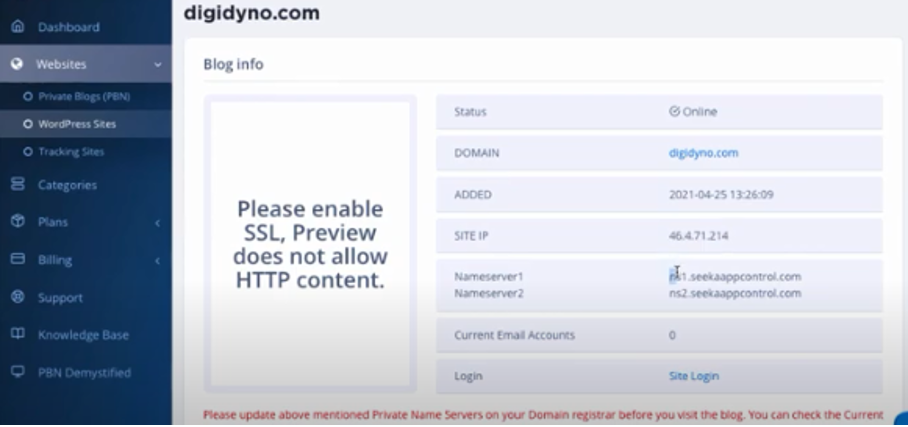 Your site might be online now, but you need to change the default name servers in your seekahost.com account to the ones shown in the SeekaPanel account.
Go to "manage domains" in your seekahost.com account and click on "change nameservers".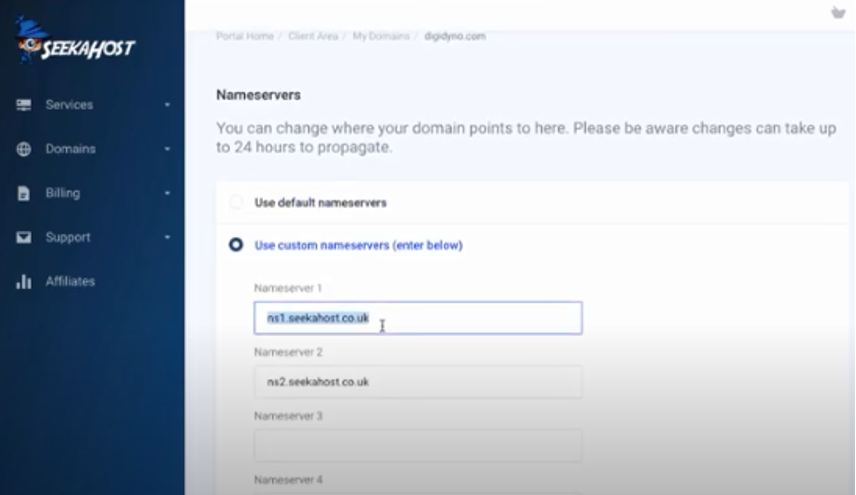 In less than 30 minutes after the domain name server changes have been applied, your WordPress website will be ready for you to start customizing it with selected WordPress themes and plugins.
5. Other Useful Features of SeekaHost's SeekaPanel for Gamers
Setting up a website with the SeekaHost control panel is as easy as setting up a game server, possibly even easier. The SeekaPanel offers additional one-click backup and SSL installations, allowing you to take manual backups of your websites with just one click and you may be familiar with this process already, if you run a game server.
Before you activate the SSL on your site, ensure your site's nameservers are pointing correctly. Then click on the SSL tab, and activate the SSL certificate on your site with one click. Check your site after a few minutes, and you will see the padlock indicating that your site and data is secure.
This short video tutorial may be useful:
Setting up an email account with the same name as your blog for a more coherent presentation is included and accessible inside the SeekaHost SeekaPanel.
Simply enter the email name for example: hello@, info@, or any name, set a password and click on "create email". You will receive an email with all the login details to get started using your professional email account.
6. Accessing your WordPress Dashboard

Now you can login into your WordPress site dashboard via the link and login details sent to you by SeekaHost.
Get started building your blog to reach a wider audience on the internet and grow your gaming community.
In the SeekaPanel you will have access to a knowledgebase with WordPress guides and via the SeekaHost University you have access to digital marketing and blogging online courses so you can monetize your websites.
Conclusion
SeekaHost WordPress hosting together with the SeekaPanel will help any video gamer get online with their own website in minutes for very little to start out with their influencer journey.
If you want to live a digital nomad lifestyle you can get in touch with top digital entrepreneur and CEO of SeekaHost, Fernando Raymond, to ask him any questions.
Author bio:
Manuela Willbold – Online Media and PR strategist at ClickDo Ltd. and SeekaHost Ltd.
As an editor in chief of various news, business, and education blogs she also handles press releases and content writing. She has taken a summer course at the London School of Journalism, a one-day course at the City of London University in writing for the web and is a course instructor at the SeekaHost University where she teaches SEO content writing.