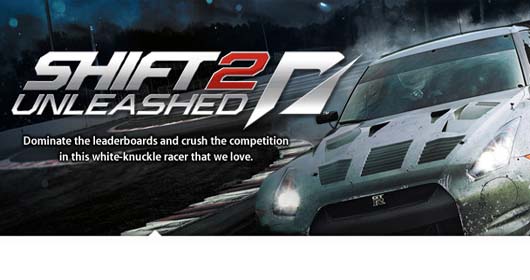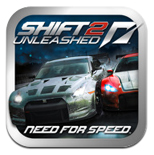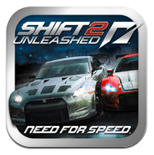 Price: $4.99    Score: 5/10    Category: Games
SHIFT 2 Unleashed is the newest in the Need for Speed series by Electronic Arts, and a current "What"s Hot" game on iTunes.  SHIFT 2 places you in the driver"s seat of a race car, as you race multiple levels on six tracks, in four different classes.
You can choose to compete in career mode, pick a quick trial, race against friends using EA"s Origin network, or pick any unlocked track for a single race.  The Origin feature is a plus, allowing you to race friends and see the leader boards.
You unlock tracks and the 40 available car types as rewards for winning races, as well as with the cash you earn along the way.  To continue to compete with cars in the higher levels, you need a race car that is as good or better than the ones you are racing against, meaning you need to be winning cups.
Unfortunately, placing near the top gets extremely difficult in later levels. SHIFT 2 seems to be designed with this difficulty in mind so that you"ll need to make in-game real-cash purchases of currency to be able to upgrade cars or unlock new courses. This is a common practice for freemium games, best online casino but is unacceptable in a premium-priced game.
SHIFT 2 Unleashed promises "high-velocity action and eye-popping visuals", but doesn"t quite live up to that promise.  The 3D graphics are decent, but not ground-breaking – the cars models are detailed, however the colors are dark and there is generally more shadow than light giving the whole game a bit of a dim feel.
SHIFT 2 unfortunately falls most short in the actual gameplay and control system. You tilt to steer, hold down the gas and can press the brake – and these are all quite responsive – but you can play the game without using the gas or brake at all, having the game do it for you automatically – and this is the game"s default mode.  You"ll have to search out the options and change it if you want to feel you are actually a part of the driving experience.
Bottom Line: SHIFT 2 is a disappointing game that doesn"t live up to the hype.  The fun and challenge of driving is taken out of the game by doing it for you, it"s too difficult to win in later levels without cash purchases.
SHIFT 2 Unleashed is compatible with iPhone, iPod touch, and iPad. Requires iOS 3.0 or later.