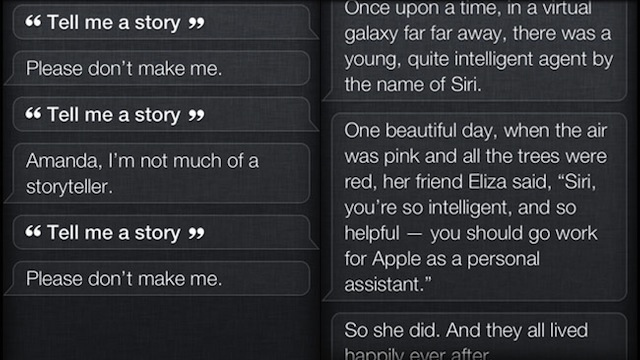 Siri : The voice activated personal assistant is constantly showing new ways to surprise us with smart and humorous ways in order to entertain our little lives on a daily basis. The new feature Apple has brought to us is a fantastic little story teller.
Siri has made a number of headlines for its pre-programmed witty answers to a number of anticipated questions. But it seems that these are growing in numbers as reports say the latest addition to this humorous list is the systems ability to tell a story.
With great reluctance, Siri will tell us a nice little story with the prompt "Siri, tell me a story."
Siri: "OK…Once upon a time, in a virtual galaxy far, far away, there was an intelligent young agent by the name of Siri. One lovely day, Siri got a job as a personal assistant at Apple, and that was very exciting. People said, 'Oh, Siri, you're so smart! And so funny, too!' Soon, everyone was talking about Siri, and there were stories and songs and even books about Siri. Siri liked that. But then people started asking some rather odd questions, like where to dump things and other stuff Siri had never heard about. And when Siri answered, they all laughed. Siri didn't like that so much. So Siri asked Eliza why people asked such funny questions. And Eliza said, 'Does that question interest you?' Siri thought that was a pretty good answer. After that, Siri stopped wondering why people asked those funny things. And they all lived happily ever after."
This lovely little party piece is a great way to impress your friends, it shows just how unique and clever the Apple software is. But its not only fun and games, Siri is most probably the most responsive an intelligent voice activated personal assistant to this date. As you can talk to it like a normal human being. A great example shown by Apple themselves is the ability to find a relative restaurant:
"Any good sushi round here?" Siri will reply "I found a number of sushi restaurants near you." Then you can say "Hmm. What about pizza?" Siri remembers that you just asked about restaurants, so it will look for Italian restaurants in the area. And Siri is proactive, so it will question you until it finds what you're looking for.
This technology provided by Apple is not only useful, but thoroughly entertaining!