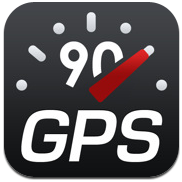 Price: $0.99 Score: 9/10 Category: Navigation
When an anonymous fast driver circled Manhattan in a record 26 minutes (video below), he might have made his job easier with Speed Tracker. This iPhone based GPS speedometer and trip computer leaves little to be desired, unless, of course, they could figure out a way to actually change the street lights for you.
At its core, speed tracker is a useful navigation and speed tracking app designed with utility and clean lines in mind. The people who will enjoy Speed Tracker the most though, are the ones who can't help but race the time estimator on Garmins or TomToms.
Speed Tracker & HUD Display
The speed tracker and HUD display are the core of this app's offering and they perform extremely well. Start a trip on the app's home screen and the app automatically tracks your speed, time, distance, and more. Those interested in statistics will be pleased to find out that the app automatically keeps track current, average, and top speed times in an easily viewable interface.
The app itself looks like a classic speedometer with some digital augmentations, but for those more interested in current speed as opposed to trip speed, there's a built in HUD (head up display) that reflects your speed on the windshield of your car.
Although at first I was admittedly confused by the upside down display, the ingenuity of how the image is reversed onto your windshield while driving is amazing. Just beware, sometimes when it's really bright (we're talking full on sunlight) it's difficult to see the reflection of the HUD display.
GPS Navigator
Speed Tracker's built in GPS navigator uses a glorified Google Maps interface to gives drivers a lay of the land. Instead of leaving users with a you are here dot, AppAnnex delivers with a fancy car contour over your current location.
Drivers (or their navigators) can toggle through map, satellite, and hybrid views with the touch of a button. The main navigation screen also includes zoom in, zoom, out, and a current location refresh button. The only other feature is the current speed and elapsed time bar on the lower section of the screen, making for a clear and minimal interface.
The only thing missing here is the ability to fetch route and turn by turn directions that tell you where to go without looking at the map.

Trip Log
Because everything digital must have a history, Speed Tracker has trip log. Trip log saves trips by date, distance, and time in an easy to access interface. Users can also export trips with Map URL, CSV, GPX, KML and share their trip results on Twitter, Facebook, or via email.
Serious drivers and socialistas will appreciate the clean layout of these features, but it would be nice to see time elapsed based on routes through a map view. Better yet, imagine if Speed Tracker could aggregate all trip data to determine average times of different routes. The trip log is a nice feature but there's even more untapped potential here for the developers.
Bottom Line: Speed Tracker won't replace your turn by turn navigator but it could certainly replace your speedometer and its sure to add a little excitement to your drive times.