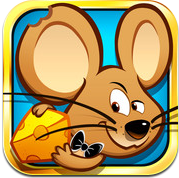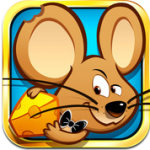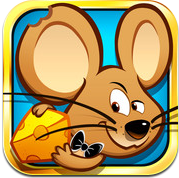 Price: $0.99    Score: 7/10    Category: Games
The cats are on patrol, and Agent Squeaky must stay a step ahead in SPY Mouse, the latest game from the developers who brought us Flight Control and Real Racing.
To navigate Firemint's 72 level, six world mouse chase, players draw Agent Squeaky's path as he grabs cheese from various spots in the household of interest. In most cases the biggest challenge he meets is cats who turn on turbo chase mode when they spot him, but beating every level isn't as clear cut as the cross section of a house blueprint presented in every level.
Dummy mice and secret passageways play an important role in SPY Mouse, as do power ups and special features like blind cats and hypnotic TVs. This new generation of path-less Pac Man meets Tom and Jerry looks great, but by level 11 the 60's movie spy soundtrack will feel so repetitive you'll likely opt to play SPY Mouse on silent.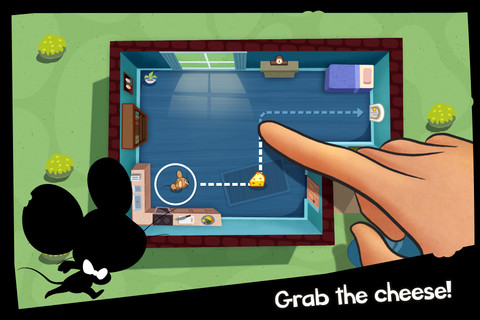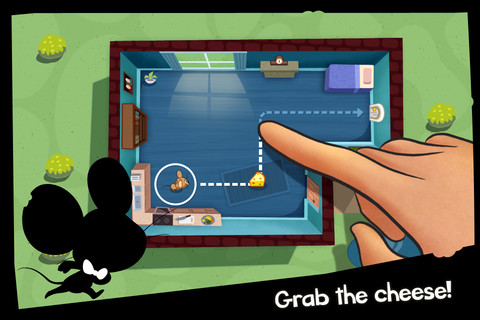 There's also something else lacking in SPY Mouse, though it's hard to quantify exactly what. Sure, the controls are great and the cartoon graphics are wonderfully polished, but Agent Squeaky and his kitty foes lack an element of pleasant surprise.
That's not to say there's anything wrong with this line drawing hit. Gamers have downloaded enough versions of SPY Mouse to make it a top game in the app store, but this title isn't for everyone. While I was playing the game felt repetitive and lacking in substance, but I couldn't help but wish I had a kid who could enjoy Agent Squeaky as he scurried to safety with cheese in tow.
Bottom Line: SPY Mouse is a polished cat and mouse chase with short bursts of adrenaline rush, but other games at the top of the app store have much more heart.