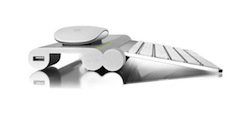 If you're a Mac user, chances are you own a Magic Mouse and Apple Wireless keyboard. These peripherals are great, but often run out of battery life. Yes, you can easily use rechargeable batteries, but what if there was an easier way to charge? Now there is with the Magic Feet by Mobee!
The Magic Feet is a conductive charger for the Apple Wireless Keyboard and Magic Mouse. Conductive charging is a type of wireless charging which is quite new to the market. While the Magic Mouse and Apple Wireless Keyboard don't offer conductive charging out of the box, the Magic Feet includes battery packs for both devices with conductive charging ends.
To charge your Magic Mouse, insert the battery pack and drop your mouse on the white bar on the top of the Magic Feet. To charge the Wireless Keyboard, simply slide it into the keyboard tray on the bottom of the Magic Feet.
The Magic Bar's design is stellar. This is because it features a compact, all-in-one design.This product will definitely fit into any minimalist's Mac desk because of it's sleek aluminium design.
The Magic Bar will make charging your peripherals easier as well as save you money. This is because you will no longer have to pay for a new set of AA batteries every time you run out of "juice".
The Magic Feet will ship March 1st from Mobee Technology for $79. Will you be buying this product when it ships in March? Let us know in the comment box below.
Price: $149.90