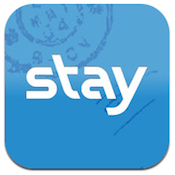 Price: Free Score: 9/10 Category: Travel
The Stay.comiPhone app (Android download here, official site here) helps you to discover the most exciting places to visit in over 120 cities all around the globe. Whether you travel weekly or just once a year, this easy to navigate app is the perfect way to scope out a new city.
A full list of the cities covered by the Stay.com app can be found on the App Store page, but a partial list includes hot spots like Amsterdam, Dublin, Edinburgh, London, Los Angeles, Orlando, Oslo, Tampa, Tokyo, Toronto, Vienna and more. With a diverse list of domestic and international locales, your travel destination is more than likely included in this free iPhone app.
But beyond city guides and offline maps, Stay.com's App is unique because of the social aspect. Unlike a lot of other travel apps out there, Stay.com allows you to leverage your own network of social connections.
You can log in with Facebook and work with friends to create a crowd-sourced, totally custom travel guide with hot local watering holes, coffee shops, and more that are off the beaten track. Even personal places like apartments can be added, making Stay.com's offering a one-stop App for storing your travel itinerary.
With the ability to avoid roaming charges by using the database of offline maps, the Stay.com iPhone app is a friend to travelers by virtue of both information and intelligent design choices. With built-in advice from expert travelers to help you locate the best restaurants, sights and attractions all over the world, the Stay.com App is definitely a great tool to add to your travel app arsenal.
TheStay.comApp for iOS is compatible with iPhone 3GS, iPhone 4, iPhone 4S, iPod touch (3rd generation), iPod touch (4th generation) and iPad. Requires iOS 5.0 or later.
Android download informationhere. Currently on Version 2.1.2, requires Android 2.2 and up. A small expedite fee was paid by the developer to speed up the publication of this review.