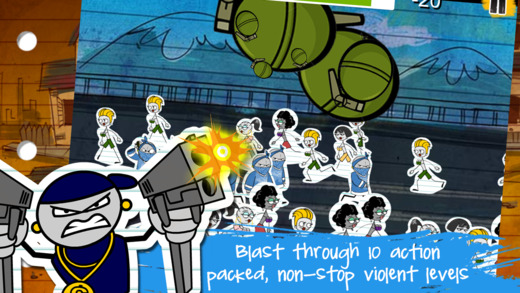 [app url="https://itunes.apple.com/app/id608069588″]
Yo, yo! What up, gangstas?! and all that. Yes, it's time to head back to the hood with Animax's arcade shooter, Stick And Chick. Following the ghetto fabulous adventures of our hero Sick, desperately on the trail of his chick… Chick, who has been unceremoniously snatched by her own brother, rival gangster Thick. It's like something straight out of Shakespeare's pages, but with assault rifles and gold teeth.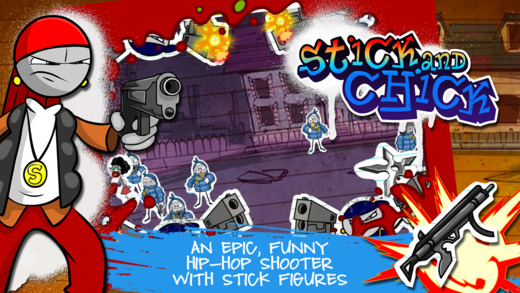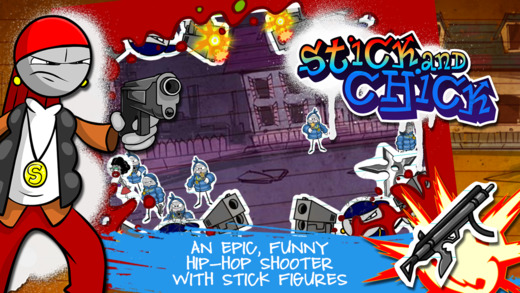 The tale plays out across a number of hand-drawn settings, ranging inexplicably from the Wild West to Far East, carrying a charmingly distinctive illustration style throughout. Your lead character – as his name would point out – is a stick figure, as are the rest of the cast. This may seem like lazy character design, but its an aesthetic which works really well here.
Release your inner street thug
Popping caps in bad guys' faces with your rapid finger taps is surprisingly entertaining, especially once you've unlocked a few power-ups and special weapons – the accompanying sound effects are satisfyingly thumping, and hit with a nice splat of blood. A bouncy beatbox-inspired soundtrack adds to the hip hop atmosphere, while Stick's (admittedly tame) ghetto slang expressions give a bit of personality to this otherwise nondescript hero.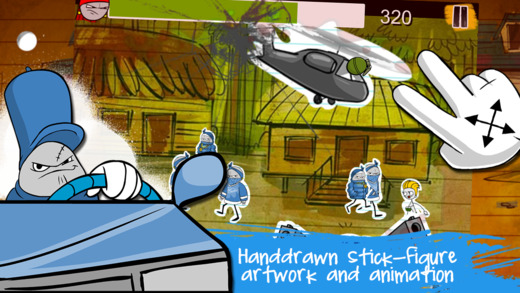 Enemies come in different shapes and sizes, some demanding a hand grenade blast, others deserving a well placed sniper shot in the head, so you'll need to switch up your play style throughout each sidescrolling mission. Their little gangster heads pop up in windows and out of moving cars, sometimes storming in from all directions but among crowds of screaming civilians – demanding a steady trigger finger to avoid adding innocent casualties to your body count.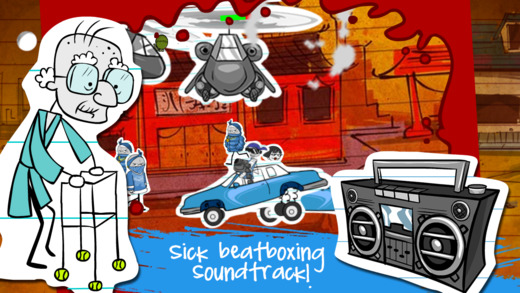 A fast, testosterone-fueled blast
Fighting your way through ten levels of bloodshed and "Yo, is that all you got?" swagger does bring moments of frustration – we'll put that down to Animax hoping that gamers will succumb to the in-app purchases to make things easier. But that frustration is easily overshadowed by the guilty pleasure of ripping through hundreds of Thick's thugs, their cartoon blood splattered across the screen.
Fast, uncomplicated and with solid production in every way, it's a dirty treat for action gamers, made even sweeter by the fact that Stick And Chick doesn't cost a cent.
Requires iOS 6.0 or later. Compatible with iPhone, iPad, and iPod touch. This app is optimized for iPhone 5.