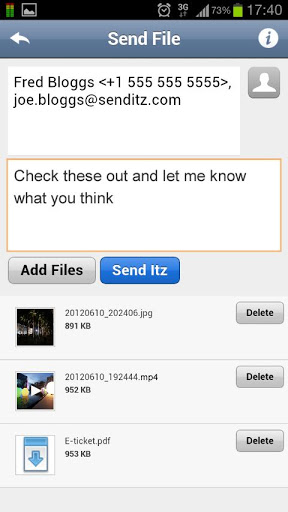 [googleplay url="https://play.google.com/store/apps/details?id=com.senditz"]
SendItz is a useful file sending and sharing application for Android Devices. Available for free on the in the Google Play store, it's a great app that allows file sharing between other mobile devices and the cloud.
One of the great things about SendItz is the hassle free set-up. There's no need to create an account. SendItz only uses your email address and phone number, and you're good to go. You can send files up to 2 GB in size and you also have your own 1 TB space on their cloud, all for free.
If you want to share a file with a friend, no problem! Instead of a nagging invitation to get the app before your friend can access the file, they are a sent a no-fuss download link. If your friend does have SendItz however, they are sent an email or Push notification with a hyperlink to the file.
SendItz can even recover if your connection drops out, and it will resume the file transfer without issue. SendItz can also work in the background, allowing you to do more important things while your files shoot through cyberspace.
According to SendItz's Play Store description "SendItz caches previously viewed files and folders with minimal space on your device, so you only need to download once." This is an especially nice feature when you're on a smaller capacity Android device, for example.
If you plan on using SendItz often, you can maintain your files with the "My Folder" button, which displays all of your files that have been previously uploaded into your cloud space on the SendItz server. This is useful for keeping track of multiple files.
SendItz is a wonderful app that does file sharing and storing correctly, and has great potential as a productivity tool. It's user friendly and with the generous free storage space, it's likely to catch on as an invaluable resource for people who manage a lot of files on the cloud.
SendItz is free on the Google Play Store