iMessage is Apple's cross-device iOS messaging services, aimed at reducing the cost of communicating through text message, allowing anyone with an iOS device to send pictures and messages to each other at no cost. The service has had some bugs in its time, and also some interesting features, such as that of the messages being encrypted in a way which means the US Government are unable to intercept them. Today features an interesting discovery as it seems iMessage is removing the last word from certain phrases sent through iMessage.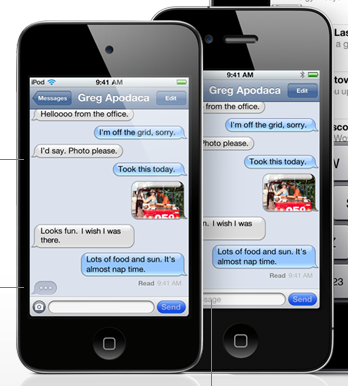 TheVerge reports that two phrases have been confirmed as being affected by the issue with one being the President himself Barrack Obama having his name removed.
Attempting to send "I could be the next Obama" followed by a trailing space will result in Obama's name being hidden from the received message. Everything looks fine until you hit the "send" button, after which — on both screens — the final word vanishes and is replaced with blank space. Oddly, copying and pasting the message (blank text and all) reveals the original composition. We've been able to confirm the strange issue firsthand on various iPhones.
Another example, perhaps even more bizarre than the above case is the phrase "The best prize is a surprise" which seems to also trigger the bug, although for a seemingly unknown reason.
It seems the bug is limited only to the iPhone, however, with iMessages' on the Mac with OSX Mountain Lion and the iPad rendering and sending the intended text.
One user on the MacRumors Forums writes that the bug occurs when the cumulative width of characters used in a message hits a certain length, with the two above examples just being a coincidence of hitting that limit.
You can test it out, and even if you change "I could be the next Odama " as the phrase it still gets deleted. The problem is that the message app, thinks the phrase will fit in a one line bubble, but it actually puts the last word on a hidden second line. It works with these two phrases because they are the exact width needed, and it is not based on character count, but character width. For example, "l" is skinner than a "w".
A very odd bug indeed, but what originally seemed to be specific keyword filtering may just be an awkward coincidence with the length of the characters. Let us know the messages you've had truncated in iOS, if any, in the comments section below.