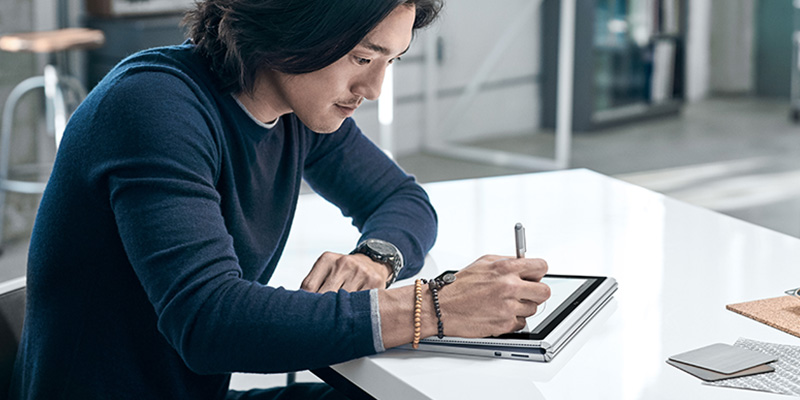 Microsoft has a new and improved toy for those who want to mix business and pleasure and it is the powerful Surface Book i7. Armed with an Intel Skylake Core i7 processor, the new notebook has an upgraded GPU to provide you with better performance compared to the low-level graphics capability of the GTX 940MX present in the previous generation Surface Book.
However, before you make your purchase, there are a total of three models to choose from. While you will be able to pre-order the Surface Book i7 right now, if you want to wait a while and browse for other options, you have until November, as this is the month when the notebook will officially start selling.
Coming to the number of models, Surface Book i7 comes in a total of three different flavors:
$2,399: Comes with an i7 processor, 8GB RAM, 256GB of storage and a dedicated graphics chip
$2,799: Comes with an i7 processor, 16GB RAM, 512GB of storage and a dedicated graphics chip
$3,299: Comes with an i7 processor, 16GB RAM, 1TB of storage and a dedicated graphics chip
The similarities between all the Surface Book i7 models is that the GPU has remained the same and if you're wondering, it's the NVIDIA GTX 965M. It is surprising that Microsoft would go ahead with this GPU, especially when the much better and might we add, more thermally efficient GTX 1000 series of graphic chips from NVIDIA can be widely seen in gaming laptops.
Irrespective, you will get a total of 2GB GDDR5 VRAM from the GTX 965M, but that might quickly finish, especially if you're playing on the Surface Book i7's native resolution, which to remind you is 3000 x 2000 pixels. If you're content with spending this much money on a premium Microsoft product, then there's nothing stopping you; otherwise, there are plenty of affordable solutions widely available that also double up in the hardware department.