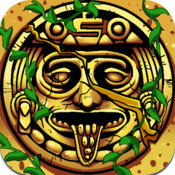 Quake Escape iPhone Game Review
Price: $0.99 Score: 9/10
You've undoubtedly heard about 2012 and the (supposed) impending doom we face as a result of Mayan calendar lore. Quake Escape (iTunes link), developed by P&D Capital Co., is an addicting and challenging game which immerses you in a world tormented by natural disasters.
The object of Quake Escape is to navigate your way through 13 different situations in order to survive. Different levels require you to collect falling items or avoid obstacles to reach safety. As you progress through levels, they become increasingly difficult.
For example, the "South Pacific Ocean" level requires you to collect batteries, life jackets, snorkel equipment, and life savers. Collecting batteries allows you to charge your cell phone in order to call for help. The other items increase the time limit of the level. However, there are also hazardous objects which must be avoided. These are things such as sharks, anchors, and buoys. Catching these items will cause you to lose time.
I really love how Quake Escape goes far beyond being just another time trial game. Each of the 13 levels comes with its own character and story. Having this sort of detail allows players to become genuinely involved with the game. Quake Escape uses a combination of swiping and tilting in order to control your character. This makes the game very dynamic and keeps players from becoming bored with routine.
There were a couple of things which bothered me about the game. First, the text on the menu screens is a bit difficult to read because it's so fuzzy. Certainly not a deal breaker, but I feel it's an unnecessary and distracting touch. The other thing which is a bit annoying is how you're unable to keep your phone's screen from dimming during levels which using tilt controls.
Quake Escape is the kind of game which will never get old thanks to its depth and detail. It is well worth the $0.99 price tag.
Quake Escape is compatible with iPhone 3GS, iPhone 4, iPhone 4S, iPod touch (3rd generation), iPod touch (4th generation) and iPad. Requires iOS 3.2 or later. A small expedite fee was paid by the developer to speed up the publication of this review.