With more than 10 million regular users and 1 billion phone numbers in its database, Sync.me is a powerful app that allows you more control and provides more information about calls you receive. Do you hate having to manually fill in faces and information for each of your contacts? Sync.me takes that tiring process away by connecting to social networks such as Facebook and Linkedin to sync new contact information and photos.
Caller ID
Caller ID is an extremely helpful function for Sync.me. If you have a huge contact list, sometimes when you get calls you may not remember the person, or, worse, you had forgotten to place the person in your contact list. Sync.me helps remedy that by connecting to its database of 1 billion phone numbers and those in your social accounts so you can see instantly who's calling, with a picture of them to the side! It also matches unknown numbers to identify who is calling. This can be quite helpful. For example, if your friend gets a new phone number and you mistake it to be a scam number, you will see your friend's face in the app.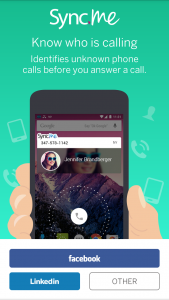 Call Blocking
Another even more valuable feature of Sync.me is call blocking. You can report calls as "spam", and if several Sync.me userssy report a number as scam, you will see the notification when you receive the call. This is a great way to use the power of the crowd to combat phishing and scam calls. There are also options to automatically block private numbers or top spammers.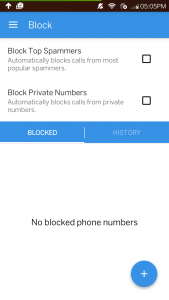 Issues
Sync.me's app runs well and is quite a popular app. However, there is some complaints that the app can sometimes sync wrong profiles, messing up the user's contacts or not assigning them at all. As a result, you should keep in mind to backup your contacts before syncing them with the Sync.me app to prevent any disaster occurring.
Conclusion
When running perfectly, Sync.me can be a very helpful utility for users to identify callers, combat scamming and phishing calls, and also keep contact information and pictures up to date with relative ease. Its interface is modern, sleak, and to the point without any unnecessary bells and whistles. It also enjoys over 1 billion phone numbers in its database already, and the number is still increasing. Although there are small privacy worries and malfunctioning reports, overall Sync.me is quite a useful app that you should install on your Android (or iOS) phone.