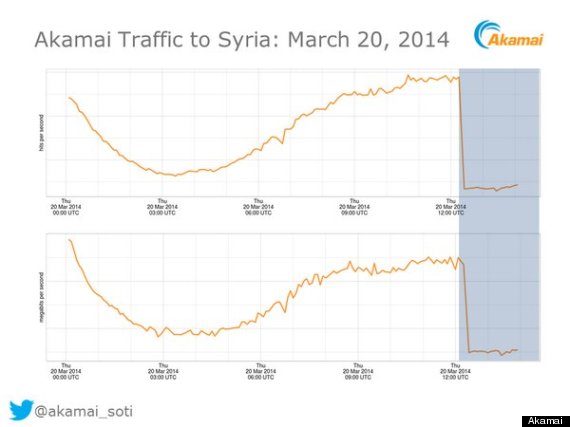 A sudden internet blackout in Syria yesterday left its citizens without access to anything online for at least seven hours. Depending on which source is reporting on the issue, the blackout was caused by a technical glitch (says the government) or was an attack by a European rebel group.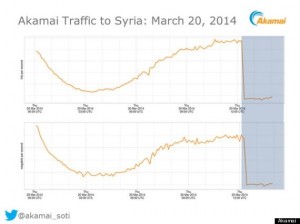 This is not the first time that an internet blackout has occurred in Syria without notice. As the violence and turmoil began to ramp up in the country last year, so did the technical issues with the service. Yesterday's blackout was one of the longest and according to monitoring firms like Renesys, it affected 95 percent on Syria.
If the European Cyber Army is to be believed, it was responsible for taking down the internet and did so because the Syrian Electronic Army–a group loyal to Syrian Preisident Bashar Assad–has attacked numerous Western websites.
However, the Syrian Electronic Army has stood up for the Assad government by also targeting the country's internet. So, in a way, the two groups would be working on the same side. A large portion of the Syrian population are not pro-Assad, so targeting them for that reason would not necessarily make sense. Therefore, it is hard to tell if the European Cyber Army was actually responsible.
The official story, put out by the state-owned Syrian Arab News Agency, reports that the internet outage was actually caused by an issue with the optical fiber cables.
Regional and international communications and Internet network were cut off in all the provinces due to a breakdown in the optical fiber cable. – Syrian Government
Renesys, one of the firms that noticed the blackout, says that Syria is always at a "severe risk" for disconnection. Given the amount of times that the internet has gone down in the country since mid-2013, this is not surprising.
Question – Who is actually responsible for the blackout? Was there just a technical glitch or did a group attack the service?
Summary

: For 95% of Syria, the internet was down for more than seven hours. The government says that a technical glitch caused the blackout. A European group is also claiming responsibility.

image credit: huffingtonpost