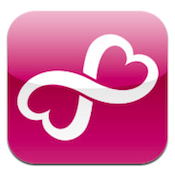 Price: $0.99 Score: 8/10 Category: Entertainment
Tarot of Love is an iPhone app developed by Sui. Focused solely on using the tarot cards to deliver hints about your romantic future, Tarot of Love promises to deliver readings on both current and future relationships.
Tarot of Love will tell you your life position, your partner's personality attributes, and the relationship's current and future status. In addition to this Love Tarot reading, you can also get a "Daily Tarot" reading, where you can get a better understanding of the direction your day will take (and what pitfalls might befall you if you aren't careful!)
Before each reading, you can shuffle the virtual deck as many times as you like. You will then cut the cards, by using a sliding motion to cut the deck. The Daily Tarot lets you pick a single card from a fanned-out deck, and presents that card to you in conjunction with a description of its meaning.
As for the Love Tarot, this reading will speak to your current relationship first. If you are currently single, the Love Tarot makes predictions based on your next relationship. You will draw four cards for this tarot reading.
The first card explains your current life situation and experience. The second card relates to your partner's personality and temperament. The third card predicts the current romantic situation you find yourself in, and the fourth card reveals the future of your love affair.
This Tarot app is for entertainment purposes only, but that being said, Tarot of Love actually gave me a love reading that was pretty spot-on for my current relationship. If you're interested in tarot readings, but don't want to pay to see a psychic or buy your own physical deck of cards, this dollar app is pretty fun to play around with.
Tarot of Loveis compatible with iPhone 3GS, iPhone 4, iPhone 4S, iPhone 5, iPod touch (3rd generation), iPod touch (4th generation), iPod touch (5th generation) and iPad. Requires iOS 4.3 or later.