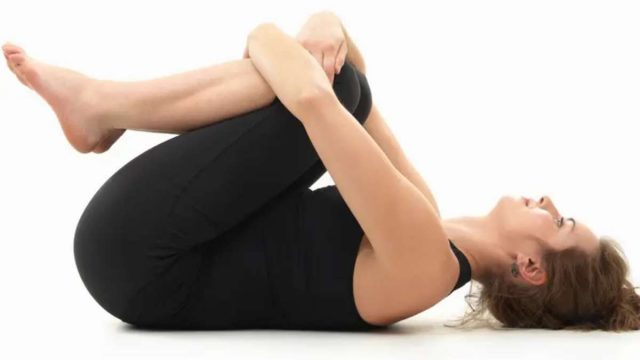 Are you feeling gassy or bloated? Are you searching for ways to get some relief for hips and low back tightness?
If you want to improve your digestion, the best solution is Yoga.
Some versatile yoga poses are highly influencing several health issues. One such yoga pose is the pawanmuktasana, also called Gas releasing pose. It is a common household practice or yoga asana that is famous as a yoga pose for best digestion.
Pawanmuktasana, also known as wind relieving pose, is a reclining yoga pose best for beginners to advanced yogis. This pose helps enhance the digestion and elimination process by slowly massaging the organs present in the abdomen. It also releases tension in your belly area, low back, and hips. The pose is called wind relieving pose as it assists in releasing Gas, bloating, and abdominal pains. This is one of the yoga poses that you will learn in the 200 hour yoga teacher training in Rishikesh.
How to do Pawanmuktasana?
Lie on your back, and take both knees towards your chest. Wrap up your arms around your knees, holding to opposite elbows, wrists, fingers, and forearms.
Tuck your chin into your chest, keeping your head on the floor. Now press your sacrum and your tailbone down towards the floor as you pull your knees towards your chest using your arms.
Now press your shoulders and the back of your neck down towards your floor, trying to get your back and the entire spine flat towards your floor. Now start relaxing your hips, legs as well as feet.
For releasing, start exhaling and releasing the arms and the legs to the floor.
Now let's have a look at some of the significant health benefits of Pawanmuktasana:
Assist in alleviating gas problems: Gastric or accumulation of Gas is one of the significant problems for various people. Even though gastric attacks occur when there is less water in the body, there can be other reasons like eating very fast, fatty foods, and poor digestion. Many people ignore such things, but this can be dangerous. Pawanmuktasana helps in the alleviation of acidity and gas issues. Few minutes of practicing in the morning hour or just before bed helps you fight gas issues.
Efficient for your low back pains: When people suffer from low back pain, it's difficult to enjoy their life daily. It creates issues in some of the basic level tasks like standing, playing, etc. Pawanmuktasana is one of the beautiful yoga practices for obtaining the required relief from several kinds of back pains. As the spine exerts the pressure on the ground to balance the bended knees towards the chest, the muscles and backbones are nurtured in a good way.
Entire body exercise: A moving body is always considered best from the medical point. When you make some movement, all body organs start getting activated, and the metabolism remains stable. All of your body parts, from your head to your toe, move while practicing this yoga pose. The muscles of your body get the required stretching, thereby allowing every body part to obtain the necessary amount of blood for retention of perfect health. If you are interested in becoming the certified yoga instructor then we recommend you join the yoga courses from the best yoga school in Rishikesh. If you are already practicing yoga from 1-2 years then advanced 300 hour yoga teacher training in Rishikesh is course you should go for.
Enhance your digestion and get rid of constipation: Digestion is a vital metabolic process that happens most often in your body. The conversion of food materials into energy starts here in your digestive system. To remain healthy, one should have suitable digestive organs, which get toned while practicing pawanmuktasana. When you have better digestion, it leads to the best functioning of your body parts, and you can focus more and in a better way.
Proper blood circulation: Blood circulation is one of the best things that must be better in your body as lack of it will promote laziness and indolence. Pawanmuktasana maintains your blood flow in progress by moving your body parts and allowing the blood to reach every aspect of your body. The head, spine, and neck are significant parts that are stimulated with blood flow.
Stretching your thigh muscles: Pawanmuktasana is a strength sponsoring pose when the matter is about stretching benefits. When you bring the bended knees near to the upper body. A strain is felt in the thigh region. To make the asana more advance, you can also lift your legs, bend knees and try touching knees to your chest various times during practice. In addition, your hips, leg bones, and other joints also get benefit excellently.
Decreases fat in several parts of your body: While performing asana, you can feel the pressure in your abdomen. Because of this, you will shed some of the extra kilos present in your stomach region. If you need a flat belly, you can perform this asana in the early morning and try to hold on to this position for a long time. This is also a good pose for your arms that will balance your legs while practicing. Toxins that are present in the thighs and your buttocks are also eliminated by practicing pawanmuktasana.
Because of all these benefits, pawanmuktasana is one of the best yoga poses. Perform it in the perfect way for relishing all of its benefits.