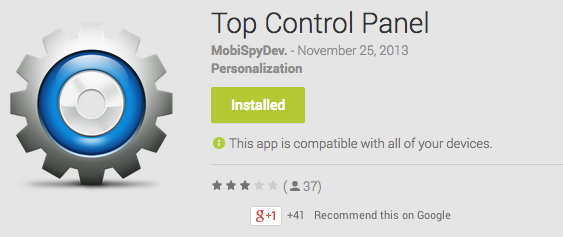 [googleplay url="https://play.google.com/store/apps/details?id=com.control.panel.app"]
Top Control Panel, developed by MobiSpyDev, is an app that was launched to offer a helpful mobile application and alternative method to access the TopSpy web-based control panel.
Finally you no longer have to visit the official website to access your account and view the target phone data, now it is all available at the click of a button on your smartphone.
Top Control Panel allows you to view call and SMS logs, track GPS locations, and monitor emails, IM activity, and even more.
The app easily displays the required information, whether that be calls, SMS, or location data, making the service even more accessible than before.
Whilst the app is extremely convenient and takes the options TopSpy offers to the mobile platform, there are very little options available to configure and sometimes it is necessary to revet to the web portal for the full experience. That's fine, but for anyone looking to manage their TopSpy account purely via the mobile, then unfortunately the app won't be sufficient.
Top Control Panel is available for free in the Google Play Store.