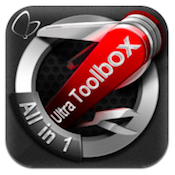 Price: $0.99 Score: 9/10 Category: Utilities
If you're a long time reader, then my unabashed love for Kdan Mobile Software is well known to you. So it should come as no surprise that I am a big fan of one of their latest iPhone apps, Ultra Toolbox. Recently updated in November, Ultra Toolbox is an iPhone app that bundles 30 apps into one package.
We've reviewed tons of apps developed byKdan Mobile Softwarein recent months, includingPDF ConnoisseurandPocket Snapper, as well asNoteledge, which we gave a 9.5/10.
Don't get me wrong: even though I'm a Kdan fangirl, I know Ultra Toolbox isn't perfect. It's baffling to me that this was updated last month, but hasn't gotten iPhone 5 optimization out of the way yet. But there's a lot to like here, and Kdan's signature polish is evident throughout.
Given it's 30-in-1 nature, Ultra Toolbox really is like a Swiss Army knife. That Swiss Army-like nature is reflected in the app's design, making Ultra Toolbox quite interesting from a visual perspective.
Slide your finger up and down to see the whole range of apps (or scroll right to left to toggle between different categories) then tap the icon to make your selection. There's a wide array of apps included in Ultra Toolbox, from tip calculators and battery life monitors to diet apps and digital music apps.
There's also a BAC calculator app, although Kdan is quick to point out that the BAC calculation is only an approximation and the calculated alcohol level provided by the app is for reference only.
If you're getting someone an iPhone for the holidays, do them a favor and pre-load their device with Ultra Toolbox. There's something for every age and interest, and it's a must-have app to put in your digital arsenal. It's cheap, attractive, easy to navigate, and just plain cool. Well done, Kdan.
Ultra Toolboxis compatible with iPhone, iPod touch and iPad. Requires iOS 4.3 or later.