US Cellular has been known for some time as the fifth largest carrier in the US, right behind the giants (Verizon, AT&T, T-Mobile, Sprint), but US Cellular has been losing customers for some time. Recent results show that US Cellular lost 200,000 customers in the last quarter – a common trend with regional carriers that do not sell the iPhone or iPad. Former US Cellular CEO Mary Dillon announced earlier this year that US Cellular would start to sell the iPhone and iPad this Fall. As of November 8th, the iPhone 5s and iPhone 5c are part of US Cellular's smartphone lineup.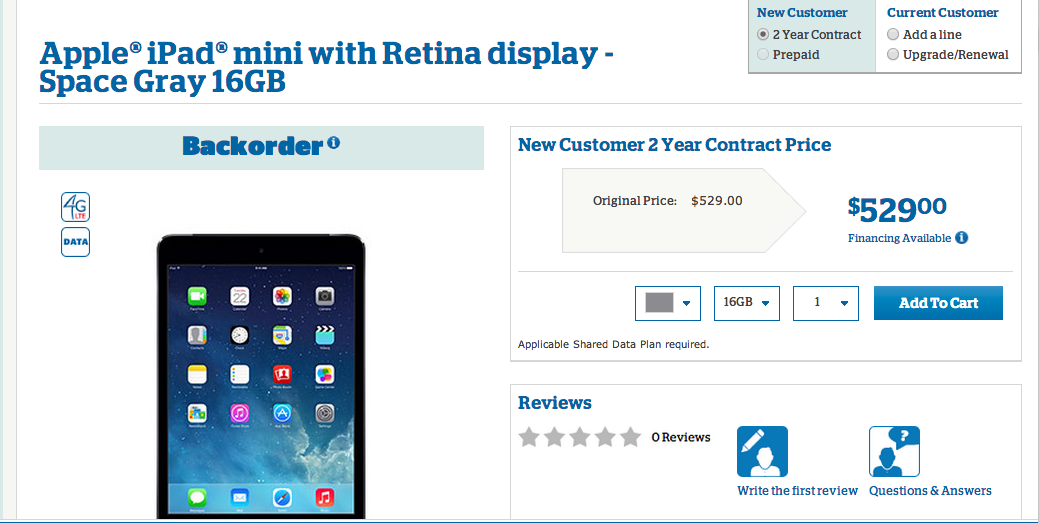 Last week, US Cellular started selling the iPad Mini with Retina display, a device that was poised to become the hottest-selling Apple tablet this holiday season. With a 7.9-inch Retina display, 2048 x 1536 screen resolution, space gray or silver color options, and comes in 16GB, 32GB, or 64GB versions, the iPad Mini retina costs $529 (16GB) starting and is currently on backorder at US Cellular's website. You can order either color now and US Cellular will contact you when your order ships.
US Cellular iPad Mini Retina Financing Plan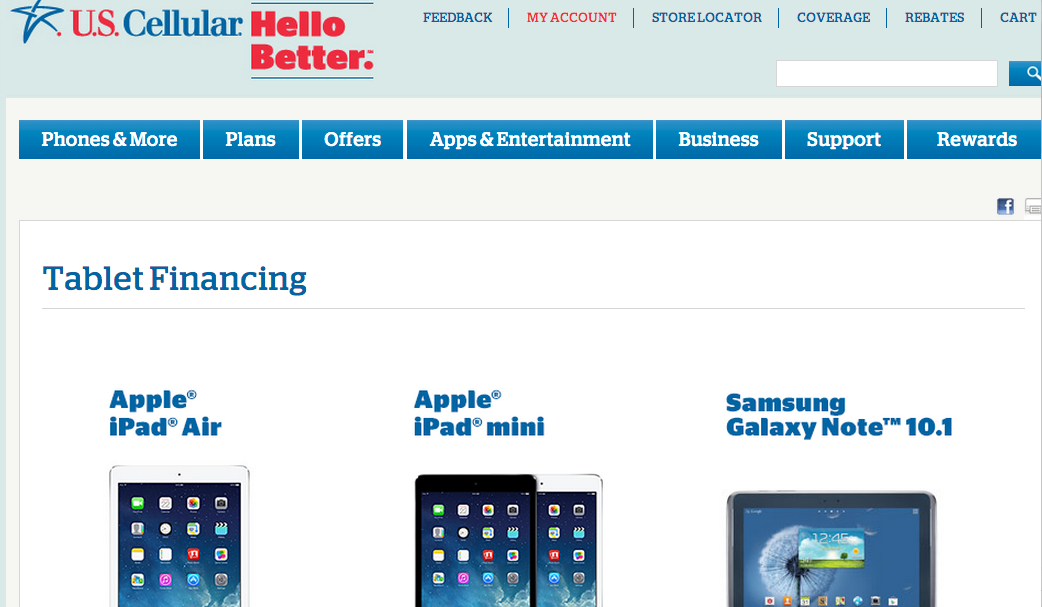 The iPad Mini Retina financing plan with US Cellular requires $45 down plus $44 a month for one year (12 months). This means that the first $45 down payment will leave $484 remaining to pay off the iPad Mini retina tablet. After the down payment, US Cellular divides the remaining $484 into 11 remaining installments. Each month, you make a $44 payment until the tablet is paid for in full.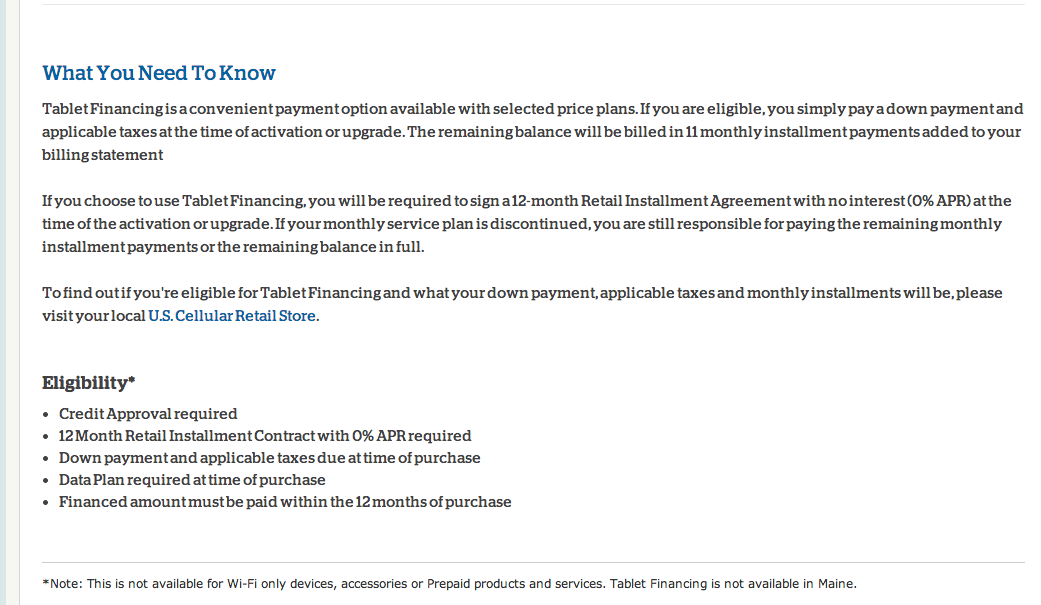 Before you jump on this deal, there are two important caveats. First, the US Cellular iPad Mini retina financing plan is only allowed for cellular data tablet devices – that is, tablets that come with a data plan each month. No Wi-Fi devices are allowed on this plan. Next, you must qualify (via credit) for this plan. If you're willing to have a credit check in order to get on US Cellular's tablet financing plan, then this may be the plan for you.
If you start paying on your US Cellular iPad Mini retina tablet and then decide you do not want to continue your one-year agreement, you must pay the remaining balance in full.
US Cellular iPad Mini Retina Mandates Shared Data Plans
As with most carriers these days, shared data plans are the new wave in wireless services. It is refreshing to pay for one data plan each month, while using it on all your devices (up to as many as 10 devices). US Cellular has gone the way of most carriers and now offers shared data plans for customers looking to get an iPad Mini retina tablet or even the iPad Air.
At the same time, however, US Cellular's tablet data plans are normal: $40 for 300MB, $50 for 1GB, $60 for 2GB, $70 for 4GB, and so on. It doesn't make sense to pay $40 for 300MB when you can pay $10 extra each month for 700MB of additional data. Likewise, it doesn't make sense to pay $60 for 2GB of data when you can pay $10 extra ($70 total) for double the data amount (4GB vs. 2GB). These plans include data tethering, three-way calling, call forwarding, unlimited talk and text, as well as voicemail.
US Cellular's most inexpensive plan is $40 for 300MB of monthly data – too high a cost for a small data amount. I recently departed from US Cellular and took my phone subscription to Verizon Wireless, but I remember that US Cellular's 300MB smartphone data plan was only $25 for 300MB. This requires an additional $15 for shared data (versus the smartphone's non-shared data plan I had), not to mention an additional $15 per additional 1GB of data should you go beyond your agreed-upon shared data plan for the month.
If you want to have a 300MB data plan but feel like US Cellular's 300MB data plan is too expensive, you can go with Verizon's new $5 per 300MB, 24-hour plan. This new plan allows you to access 300MB of data over 24 hours for just $5 and no activation fees. For individuals who do not want a lot of data, I suggest this plan. If you only need data for your weekends at home, for example, you could pay as little as $40 each month for 2.4GB of data (300MB a day x 8 days each month). This is still cheaper than US Cellular's $60 for 2GB data plan, while allowing you the choice to watch television shows, play games, surf the Web, and do what you love to do online for an affordable price that you can live with.
Are you interested in US Cellular's new iPad Mini retina tablet? Can you live with the regional carrier's cellular data tablet plans? Let us know in the comments below.