The Google Nexus 7 tablet has become quite a hit with people looking for a smaller alternative to the 10-inch tablets but at a price that won't break the bank. If you're one of the device's happy owners and are looking to upgrade the OS to Android 4.1.2, you have two options — wait for the Google Nexus 7 update to reach you or do it manually. How? We've got the easy-to-follow steps below.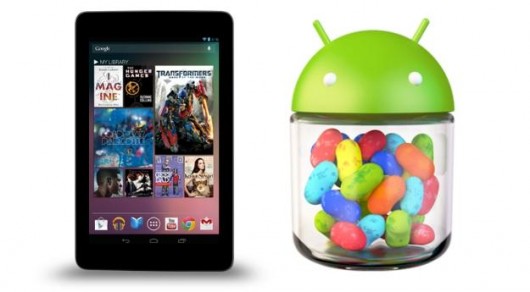 The update procedures are intended or devices that are still running the stock ROM. Now, we don't want you bricking your device so be sure to read and follow the instructions carefully. If you think you don't have the technical proficiency to do this, it might be a good idea to call a buddy who has or just wait for the update to reach your device.
If we haven't scared you off yet, the steps to updating your Google Nexus 7 to Android Jelly bean 4.1.2 are below:
What you need:
The Update Process:
Unzip the zip file containing the ADB executables into a folder on your computer.
Place the update .zip package from Google in the same folder, but do not unzip it.
On your Nexus 7, go to Settings > Development options and switch the toggle on. Then enable USB debugging under the "Debugging" menu group.
Power down your Nexus 7
Start up the bootloader by holding down volume up, volume down and power on your tablet.
When the menu loads, plug your Nexus 7 into your computer.
Use the volume up/down keys to navigate to "Recovery mode", then press the power button.
When the Android with the red exclamation point appears, hold down power first, followed quickly by volume down and volume up. (So that to start, you're holding down power, then you're holding down all three). When the menu appears, release all three keys.
Use the volume up/down keys to select "apply update from ADB," then press power to select it.
On your computer, open up a command prompt or terminal window.
Using the command line, navigate to the folder containing the ADB executables and the update file. (cd command)
On Windows, type:
adb.exe sideload 03a4eaf95f73.signed-nakasi-JZO54K-from-JRO03D.03a4eaf9.zip
… or on Mac, type:
./adb-mac sideload 03a4eaf95f73.signed-nakasi-JZO54K-from-JRO03D.03a4eaf9.zip
… or on Linux, type:
./adb sideload 03a4eaf95f73.signed-nakasi-JZO54K-from-JRO03D.03a4eaf9.zip
The update should begin installing. When it's done, select "reboot system now.
That wasn't so hard, was it? Once you've completed the steps, you can now enjoy your brand-spanking-newly-updated Google Nexus 7!