[googleplay url="https://play.google.com/store/apps/details?id=com.wevideo.mobile.android"]
WeVideo is a fantastic cloud based video creation tool, making it easy for a beginner to create professional looking videos. The application is now available on Android, allowing you to create and contribute to video content from your device – wherever you are.
Once you have downloaded WeVideo, you will be given the option to sign up with Facebook, Google or by creating a standalone WeVideo account, using your email address. The ability to use Facebook and Google make the sign up process incredibly straightforward.
After logging in, the application will ask permission to access the photos and videos stored on your device. Once given access, your media will be displayed in grids.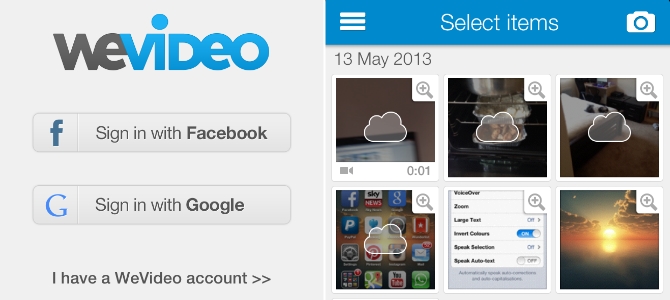 Cloud Based Videos
You can then select to upload a host of images or videos from your device, to your cloud based WeVideo account. This account can then be accessed from any web browser, allowing you to make changes and create content from your PC or laptop.
Within the Android app, WeVideo allows you to capture videos and images, and then modify them with captions, tags, themes, music, video cropping, and so on. You can also arrange them in a way to tell a story.
Once you create videos using WeVideo, you can easily publish them to your favourite social networks, including direct uploads to Youtube and Vimeo accounts.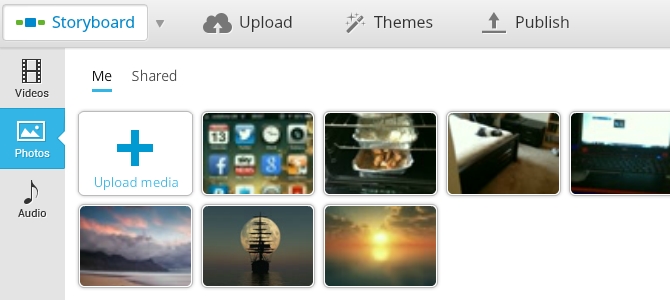 WeVideo's interface and menu system is faultless, which helps speed up video creation. The videos themselves are of high quality, and do not take long to configure, edit and preview.
The ability to switch from the simple features of your Android device, to the more complex options of your PC or laptop, gives WeVideo an extra dimension, allowing you to make your videos as simple or as detailed as you like.
WeVideo caters for all types of video creators. Beginners can benefit from the Storyboard Editor Mode, whilst more experienced vide editors can opt for the Timeline Editor mode. Additionally, the experts can spread their seasoned wings via the Advanced Editor Mode.
Final Remarks
To conclude, WeVideo is capable of creating incredibly simple and captivatingly complex videos at the same time. The extensive video editing options are easy to use, but can deeply impact the end result.
The app allows you to take videos and images, edit them, upload them and share them. WeVideo's seamless social media publishing only adds to its excellence.
Download WeVideo from Google Playfree of charge on Android devices running Android 4.1 and up.