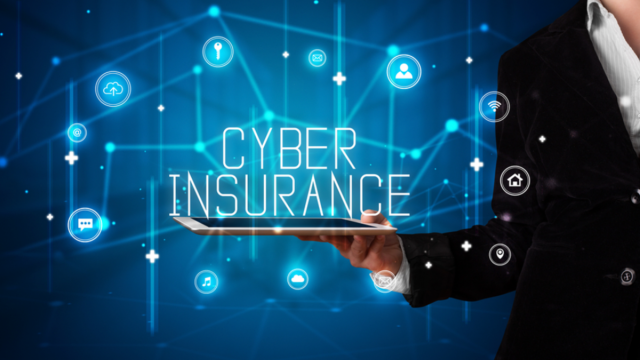 Browsing the internet may be an essential part of the workday for you and your employees, but the world wide web is becoming more dangerous every day. We all grow complacent with our security practices and might leave ourselves open to a phishing attack or another type of malicious cyber crime. Either way, more businesses are turning to cyber insurance as a means to enhance their overall cybersecurity.  According to Accenture, 68% of business leaders feel their cybersecurity risks are increasing. Cyber security insurance seems to be the answer to a lot of businesses' problems when it comes to facing cyber risks, but what does cyber insurance cover? We'll be exploring that and more below.
What is Cyber Insurance?
Cyber insurance sometimes referred to as cybersecurity insurance, provides businesses with coverage options that protect companies from cyber attacks, data breaches, and other cyber security threats. Hackers and cyber attacks are becoming more complex and sophisticated everyday, so businesses have to find effective ways to evolve with their cyber security measures. Cyber insurance companies give businesses a reliable way of mitigating cyber risks and protecting their customer base from data breaches. Cyber insurance should never serve as a replacement for cyber defense. It should only complement a cyber risk management plan already in place such as employee training, antivirus software, firewalls, and other cybersecurity solutions.
What Does Cyber Cover?
Cyber insurance companies usually cover a variety of costs related to cyber attacks and data breaches, but this depends on the specific policy. These insurance policies vary from company to company, but typically help cover data recovery, data restoration, computer system repair costs, identity theft recovery, and notifying customers about a data breach. Sometimes they also cover cyber extortion, crisis management expenses, forensic investigations, regulatory fines, and business interruption.
What Doesn't Cyber Insurance Cover?
Cyber insurance companies cover a wide variety of expenses, but don't cover every risk out there. Cyber insurance doesn't cover prior breaches, poor security processes, human errors, insider attacks, preexisting vulnerabilities, and any costs related to enhancing technology systems. Cyber insurance also doesn't cover future profits that may be lost, decreased valuation, and upgrades of any kind. It's recommended to look into adding general liability insurance, commercial property insurance, professional liability insurance, and employment practices liability insurance to create a comprehensive protection plan for your company.
Who Needs Cyber Insurance?
Almost every business large and small could benefit from investing a portion of time and resources into cyber insurance companies. Large businesses are seen as big lucrative targets, which are hard to hit while small businesses like easy targets due to fewer resources. Regardless of size, if your business stores sensitive data such as social security numbers, credit card information, addresses, email addresses, and more, then you definitely need cyber insurance. You have a regulatory obligation to keep your customer's data safe and secure. Also, if you have European consumers, you need cyber insurance to be compliant with the General Data Protection Regulation. Any business that deals with technology should look into cyber insurance companies.
Cyber Insurance Costs
According to IBM, the average cost of a data breach is $4.2 million dollars as of 2021, which is a nearly one million dollar increase since the prior year. It's no wonder that businesses are willing to shell out thousands of dollars every year on cyber insurance policies alone. It's important to keep in mind that there is no one size fits all cyber insurance plan and the overall cost depends on several different factors. Some of these determining factors include company size, the industry, regulatory requirements, the sensitivity of your data, revenue, number of customers/clients, and claims history. The median cost of cyber insurance comes up to $140 per month, which adds up to $1,675 per year for small businesses. This number can go up or down depending on the cyber security needs of your business.
Conclusion
Data breaches, cyber attacks, and hacking are just a few of the risks any business that deals with technology faces in this digital age. According to Microsoft, in 2021, a cyber attack on Microsoft affected more than 30,000 organizations in the U.S., including businesses and government agencies. If a big company like Microsoft or even T-Mobile can be successfully attacked, then this could potentially happen to any number of businesses out there with devastating results. Thankfully, cyber insurance companies help your business effectively respond to and prevent cyber attacks. Just about every business could benefit from cyber insurance especially if you store sensitive data for your customers/clients. Cyber insurance doesn't cover everything and should serve as a supplement to a solid cyber security plan. It's relatively affordable depending on your businesses' needs and could save you millions of dollars in the long run. Cyber insurance is a great investment for companies looking to save money and protect their business for years to come.