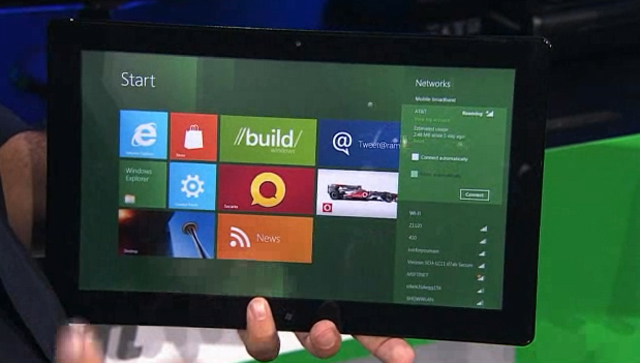 While Windows 8 PC's operating system is stuck to the set date of October 26, the tablet market is completely open for dates, and it seems two of the biggest tech firms are preparing to launch their Windows 8 tablet versions at the European IFA conference held in a few days.
The IFA conference held in Berlin has always been host to some surprising new technological pieces and promises to be a big day for Samsung; they are apparently going to reveal the Samsung Galaxy Note 2, along with the Windows 8 tablet and other designs at the European conference.
Moving away from the bad court case in the US with Apple, Samsung seem fresh as ever and ready to rock the IFA.
As do another Asian tech giant, Sony – they are apparently preparing to unleash a tablet to rival Microsoft's own Surface at the Berlin conference.
While there may be other Windows 8 tablets on show at the IFA trade fair, we are yet to see any compelling leaks or previews from any other tech companies.
It seems quite weird, considering how much Lenovo have been rattling on about making a tablet to beat Windows Surface.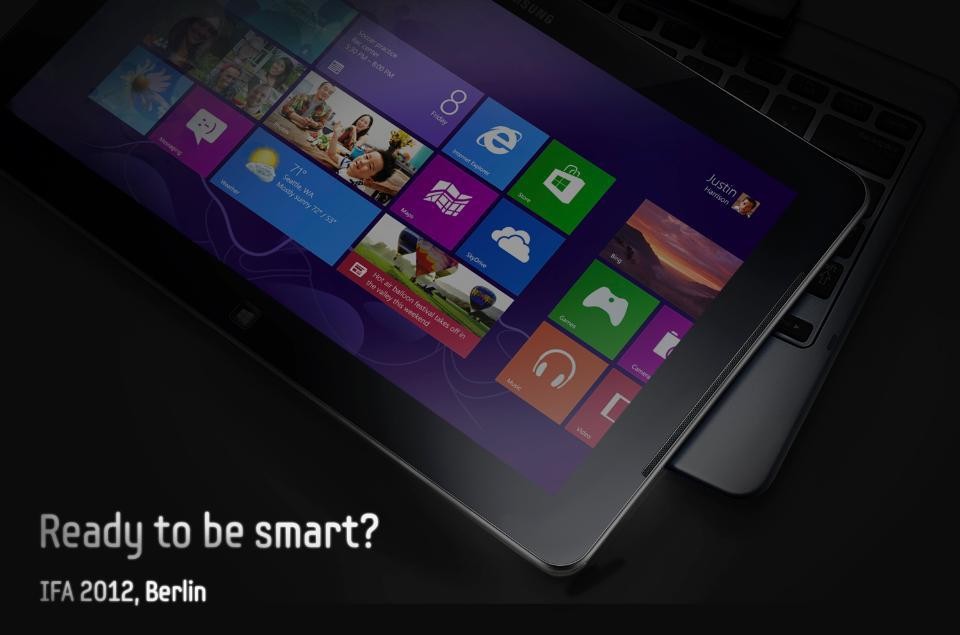 Samsung's tablet 
The Windows 8 tablet Samsung is bringing out has been much less secluded in mystery than the Sony one, Samsung has basically told us there is most definitely going to be an announcement at IFA 2012.
While we are still in the darkness about exactly what this tablet will have in terms of unique features, Samsung's rather ritzy slogan; "ready to be smart?" makes us assume that we are going to see a tablet that has functions we have never seen before.
Samsung has dropped the hint that a keyboard will come as an optional accessory to the Windows 8 tablet, although there is no darkened out stand in the background of that image as well, we imagine that Samsung will have this as an available accessory anyway.
There is no news on whether Samsung will add a stylus to this particular tablet – the device went down as a hit-and-miss product on their recent tablet, so Samsung may think twice about adding the pen again.
Sony's tablet
This is more shrouded in secrecy and even though PocketNow seem to have got the previews from somewhere, we cannot call it conclusive.
Dubbed the VAIO Duo 11, the Sony tablet is continuing its line of V-named products, with Vita and now Vaio. There have been assumptions to say that 11 relates to the size of the tablet and the duo relates to the connectivity between both the keyboard and the tablet.
As you can see on the image, the accessories and the tablet seem to be connected with more than just the optional feature.
Whether this means the Windows 8 tablet is going to be more pricey or accessories come with the tablet, we are unsure, all we know is Sony is again doing some innovative with their tablets.
We comprehended that the tablet may hold the keyboard at the back of the tablet, and you can roll it out when you want to type out something.
This idea seems to make the Sony a fold out personal computer, but with a tablet edge. The only problem is when the keyboard is folded up; you won't be able to take images, assuming this has a rear-camera.
Other Windows 8 tablets 
Nokia, HTC, Levono, Asus, HP, Dell and of course Microsoft have all vouched that they will make a Windows 8 tablet and there are probably some names missing from that list. It is fair to say that even though Android has open source software, many are looking for a change to see what Windows 8 has to offer.
We are unsure if any of these manufacturers will bring out their tablet at the IFA these coming days, we'll keep you reported, as always.