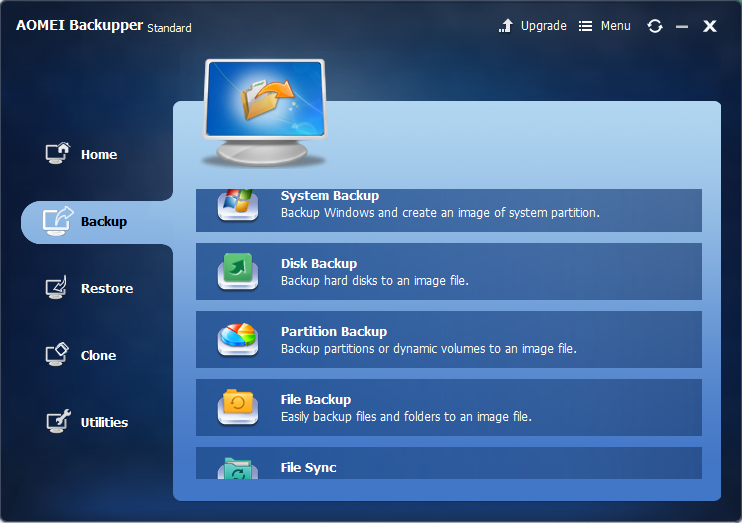 When using computer, backup is a common operation. Easy backup task likes make double of documents and store them in two places separately. Complex backup tasks like backup partition, create a system backup and so on. Backup is a good habit. If you make backup with an excellent backup tool, things will become much more simpler. Windows has inbuilt backup program, but it is not professional than third-party backup software. What's more, it has some limits. The built-in backup programs on Windows XP, Windows 7, Windows 8/8.1 and Windows 10 are different. They are noncontinuous and lack of some functions. Thus, many people choose third-party backup software instead.
AOMEI Backupper is a well-known backup software in the world. It got many awards prove it is worth trusting. This product is developed by AOMEI Technology. We have reviewed AOMEI Partition Assistant, which is also this company's product. AOMEI Backupper has free and paid editions. Although free edition, it is enough for users to do backup tasks on PC. Paid editions, usually, are for enterprise and business use. AOMEI Backupper Standard Edition and AOMEI Backupper Standard for Win 7 are free, the only difference is the latter one does not support Windows XP and Windows Vista. Paid editions are AOMEI Backupper Professional, Server, Technician and Technician Plus editions.
How do you know AOMEI Backupper is right for you or not? What kind of backup software do you need? For most people, I think you are looking for a easy-to-use, full scale one. Luckily, AOMEI Backupper meets your needs. Then, let's have a look at it.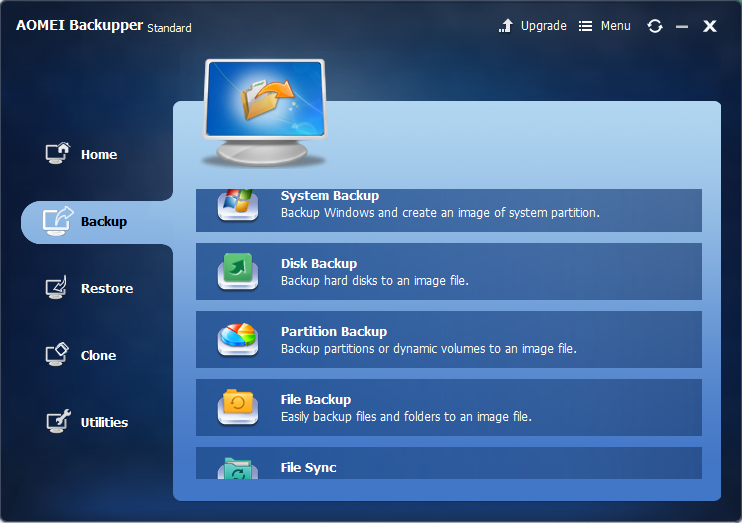 There are five category labels on the left. The top one is Home. If you are the fist time to use it, the Home is empty. You can import image files. If you have created tasks before, they will be displayed on the interface. The second tab is Backup, including system backup, disk backup, partition backup, file backup and file sync. Select a backup, set target and destination as well as other options like schedule and scheme, then start backup. You see, AOMEI Backupper's interface is very clear.
The third tab is Restore. AOMEI Backupper supports universal restore, selective restore, restoring for bootable media and so on. The forth tab is Clone, there are three kinds of clone: Disk clone, system clone and partition clone. Operations are similar to Backup.
AOMEI Backupper integrated utilities are check image, explore image, import/export configuration, view logs, create bootable media, merge images and AOMEI PXE Boot Tool. Among them, create bootable media and AOMEI PXE Boot Tool have single products.
Conclusion
With the help of AOMEI Backupper, you can protect your data better. When disaster comes, don't be worried any more. So, download backup software as soon as possible. AOMEI Backupper supports English, German, French, Japanese and Chinese. We think everyone can enjoy it.