Caving into Gmail's popularity in the email industry, Yahoo announced today that you can now manage your Gmail account via Yahoo Mail.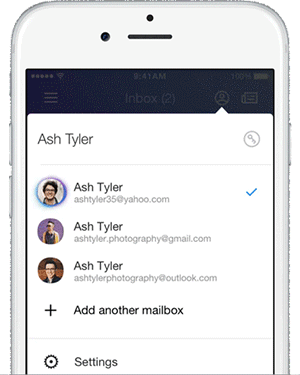 In October, Yahoo Mail introduced multiple email management in their freshly redesigned client. Outlook, Hotmail and AOL Mail were all on the list, but Gmail was conspicuously missing. Now, Gmail joins Yahoo Mail's other supported email services.
It's no secret that Gmail is a popular email client. According to Litmus Labs, Google ranks second, right behind iOS, among email clients. Offering virtually unlimited email storage since it was first released, Gmail has evolved past email into a versatile productivity suite, offering word processing, spreadsheets, Google Hangouts messaging and cloud storage – free of charge.
Yahoo Mail users will still have to sign on to Gmail to access Google's various services. However, Yahoo Mail can search, manage contacts and switch seamlessly between Gmail and other inboxes.
Here's a full list of the integration Yahoo Mail offers with Gmail according to the company's statement.
Sign in, Password Free: With Yahoo Account Key on mobile, you no longer have to memorize complicated passwords. Account Key makes signing in to your Yahoo account as easy as tapping a button.

Compose Engaging Emails: Easily add photos and videos with the new Yahoo Mail app. Or, try the new compose feature ondesktop to find and add not only photos and videos, but also GIFs, files and links too. Just click on the "+" sign when composing a new message.

Search Smarter: Find what you need quickly with our search results pages that not only display relevant messages but also files and photos from all your connected mailboxes.

Access Contacts Across Your Mailboxes: Our intelligent contacts manager, powered by Xobni technology, makes suggestions for who you should email based on your habits. Yahoo Mail also displays contact cards that include information you may need about someone (i.e. email addresses, phone numbers, social media info, email history and more).
h/t: TechCrunch