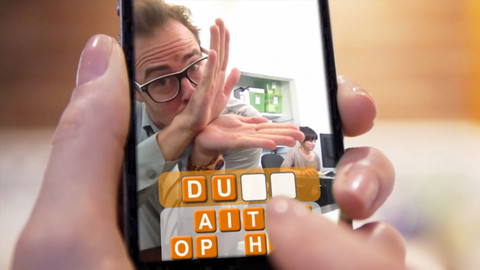 [app id="549880107″]
Acting Out! Video Charades is an iPhone game developed by Interconnected Gaming. As the name of the developer suggests, Acting Out! Video Charades is a social game that requires players to connect with friends.
This unique game is like Draw Something, but with no need for artistic experience. You can connect with your friends as you try to act out and guess each other's words. You can move around, dance, sing, use props, or do impressions – anything to get your point across. The only rule: don't say the word you're acting out!
Acting Out! Video Charades offers 30 different achievements for users to acquire, and you can record video for up to 60 seconds! That gives people plenty of incentive to keep on playing…and play they will, and at any pace they want.
The only thing you need to play is a Wi-Fi connection…and your imagination. There is no Facebook login required to play, unlike many similar social networking games.
Charades may be a tired, lame party game. However, Acting Out! Video Charades is a ton of fun. Best of all, you don't need to gather a bunch of people together in one room to play this version of Charades.
Acting Out! is a fun way to feel connected with your friends, even if they are thousands of miles away. And the more creative you get with your clues, the more rewarding the game becomes. I love this game!
Check out a great video of the game in action here!
NOTE: If you already have the free version, switching to the paid version is easy. Your existing games and account will carry over automatically to this ad-free version. The ad-free version also comes with a 250-coin bonus!
Acting Out! Video Charades is compatible with iPhone 3GS, iPhone 4, iPhone 4S, iPhone 5, iPod touch (3rd generation), iPod touch (4th generation), iPod touch (5th generation) and iPad. Requires iOS 5.0 or later. This app is optimized for iPhone 5.