Amazon officially pulled the curtains back on the new Kindle Fire HD at a much-anticipated launch event today in Santa Monica, California.
The Kindle Fire HD has received a full revamp, with Amazon's Jeff Bezos announcing that the company had "just built the best tablet at any price". Backing up that claim, Bezos showed off a number of significant improvements on the original Kindle Fire, including a gorgeous new HD display, lightning-fast processor, enhanced connectivity options and an aggressively priced data plan.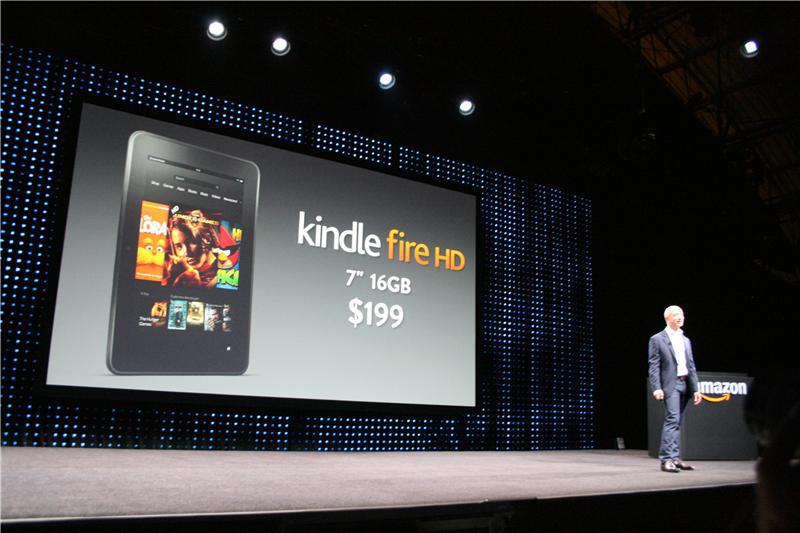 Kindle Fire HD Features: Display
The new Kindle Fire HD will be available in two sizes – 7-inch and 8.9-inch, both with exceptional quality displays. The 8.9-inch model features a 1920 x 1200 resolution screen, which yields a pixel density of 254 PPI (the iPad 3 has 264 pixels per inch) and will support full 1080p HD video and movie playback. The display is also fitted with a "true wide polarizing filter" which should allow excellent viewing from any angle.
Processor
The Kindle Fire HD is fast. Amazon chose the OMAP 4470 processor from Texas Instruments, which is capable of performing some 12 billion floating point operations per second – 50% more than the Nvidia Tegra 3, the chip powering the majority of current-model Android devices.
Wireless technology
Amazon's new Kindle comes with 5 Ghz 802.11n wireless, the same standard supported by the iPad and most Android tablets. However the Kindle Fire HD also ships with two radio antennas and MIMO wireless technology for boosting Wi-Fi signal strength. Amazon are claiming that the Wi-Fi on the Kindle Fire HD is 41 percent quicker than Apple's iPad and 54 percent faster than the Nexus 7.
Sound
Both of the new Kindles are packing dual stereo speakers with Dolby Digital Plus technology, which should result in excellent sound quality for multimedia playback.
Price, Availability and Data Plans
Amazon have priced the 7" Kindle Fire HD 16GB model at $199, and the 8.9" 16GB model at $299. A 4G LTE Kindle Fire HD with 32GB of storage was also announced, and will retail for $499. All models will commence shipping on November 20.
The data plan to accompany the 4G LTE version of the Kindle Fire HD is priced at just $49.99 / year for 250 mb of monthly wireless data, 200 GB of cloud storage and $10 Amazon store credit. A front-facing HD camera, HDMI out and Bluetooth connectivity round out an exceptional product from Amazon.
Buy now on Amazon:
Kindle Fire HD 8.9″ 4G LTE Wireless, Dolby Audio, Dual-Band Wi-Fi, 32 GB
Kindle Fire HD 7″, Dolby Audio, Dual-Band Wi-Fi, 16 GB
What do you think about the new Kindle Fire HD from Amazon? How do you think the Kindle compares to the iPad or equivalent Android tablets? Let us know in the comments.