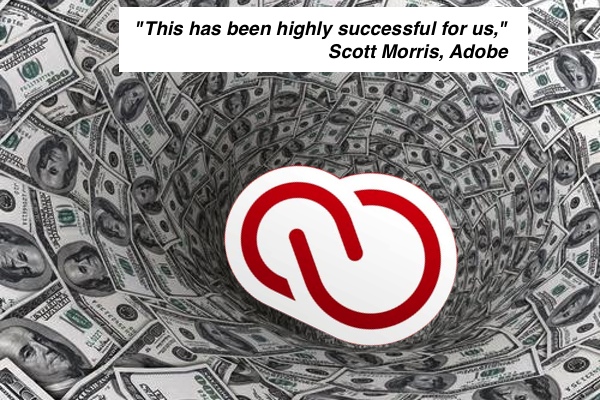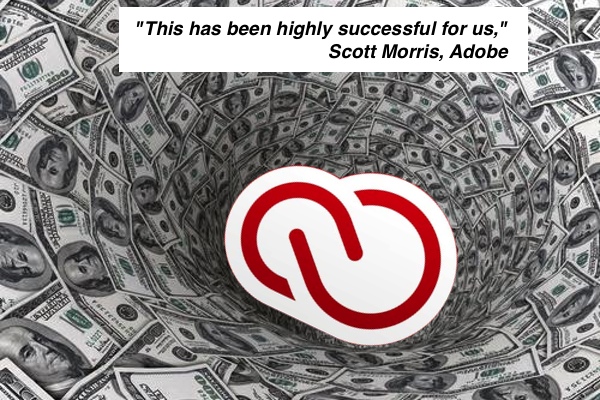 How much does cost Photoshop cost? You can pick up a copy for about $600 or about half that amount to upgrade from a previous version. If you were happy with the version you "own," you needn't ever spend money on Photoshop again. Now, with Creative Cloud, if you want Photoshop, soon you will have to keep paying and paying and paying and…
Although you can still buy Creative Suite 6 or the individual components, Adobe is saying that it is phasing out stand-alone licenses (i.e. boxed) and is retiring the Creative Suite suite moniker. When the new version of Adobe's industry-standard content creation tools ship on June 17, it will only be available by subscription only — welcome to Creative Cloud.
"This model means no upfront costs, and makes our software accessible to more people," says Adobe vice-president Scott Morris. "You get new features right away, and don't have to wait two years for them. We decided this needed to be our singular focus."
He adds, "This has been highly successful for us."
Of course, whereas there are no "upfront costs," the downside of Creative Cloud is that the backside costs stretch out to infinity. Or, put another way, Adobe is moving to pay forever software — your files and content are only yours insofar as you keep paying Adobe to use them.
"If you want a perpetual license for [Creative] Suite, go out and buy CS6," writes Applelinks' Gary Coyne. "Yes, it's a year old, but a year from now you will still have the same suite — no more payments, it will always be on your desktop."
Creative Cloud requires subscribers to connect to Adobe at least once a month in order to maintain access to Photoshop, Premier et al, as well as all of the files created with those apps.
Creative Cloud: Today and Tomorrow
Pricing for new subscribers is $49.99 a month, though existing CS 3 through CS 5.5 users get Creative Cloud for $29.99 per month. CS 6 users will pay $20. Individual app subscription prices are $20 monthly for new customers and $10 for existing license holders.
Interestingly, these prices have generally been praised. However, I strongly suspect that once Adobe gets folks locked in, piczilla will "tweak" the pricing and terms to be less favorable. In fact, count on it — it's a strategy that made Time Warner, AT&T, Comcast, Verizon and a host of others fat, rich and lazy.
Pay forever software? There's never been a better time to switch to Acorn, PicNik, Pixelmator, GIMP, etc…
What's your take?