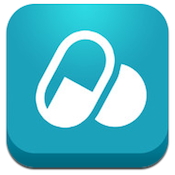 Easy Pill iPhone App Review
Price: $1.99     Score: 9/10     Category: Medical
It's pretty much inevitable: the older you get, the more medications you need to take.
I remember how my grandparents would organize their pills: partially with pen and paper, and partially using those plastic SMTWThFS divided pill containers. If they were still around today, I think they'd be amazed at just how easy pill management can be with an iPhone.
Easy Pill, developed by Birdscorp.com, offers an app experience that's simple, straightforward, and a way better pill reminder system than setting up a handful of alarms on your iPhone's clock.
If you only take one pill per day, you might not use this app to its full potential. However, people who take multiple pills a day are sure to find the app a major timesaver and huge organizational help.
You simply input the name of your pill, the frequency and duration of your course of medication, and (optionally) set up a reminder for when it's time to take it. Adding each medication couldn't be more simple.
But Easy Pill offers more than just reminders: you can also see a progress bar that lets you know how close you are to your course of drugs (particularly nice if you're on a long course of antibiotics.)
In addition, there's a colored legend for each pill. Red indicates a missed dose, while green is a dose you've taken on time. Blue indicates that the dose is good to take, while white indicates an upcoming, scheduled dose.
One very minor critique: the font. While the size, font type, and color of the text in this app is easy enough for me to read, I'm not sure how well older users will fare.
Not only is there no way to increase the font point, but the font itself might not be the best choice. Studies have shown that Century Schoolbook 12-point bold print is the most appropriate choice for older readers of prescription bottle labels. Perhaps future updates will include the ability to select a font of your choice.
Other than that minor critique, this is a great app. While there is room more minor improvements, overall, Easy Pill is essential for anyone who takes lots of medications, vitamins, or health supplements.
Easy Pill is compatible with iPhone, iPod touch, and iPad. Requires iOS 3.1.2 or later.