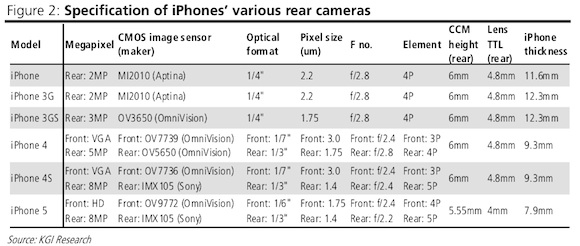 Capitalizing on knowledge gained from Apple's supply chain, KGI Securities analyst Ming-Chi Kuo is reporting that the iPhone 5 is set to feature major updates to both front and rear facing cameras.
The advancements in camera technology serve the two-fold purpose of improving compatibility and performance with a larger, 16:9 display as well as achieving a decrease in the overall thickness of the device. The changes are expected to include an update in the CMOS and an increase in the size of the lens aperture, with conversion of the front-facing camera from VGA to HD.
A number of components have required a slim-down. The component that will undergo the most dramatic make-over is the rear camera. Our research shows that iPhone 5 will feature the first-ever slimmed rear camera of all iPhones, in an effort to deliver an ultra-slim iPhone 5.

Meanwhile, to enhance photography effects, iPhone 5's rear camera will feature a larger f/2.2 aperture than iPhone 4S's f/2.4. However, larger aperture means more noises. In addition, the reduced thickness means even greater challenges for lens design and assembly, as not only the lens, but also the voice coil motor (VCM) and CMOS image sensor (CIS) need to be slimmer. Finally, the compact camera module (CCM) suppler, responsible for the terminal assembly, will be confronted by assembly yield.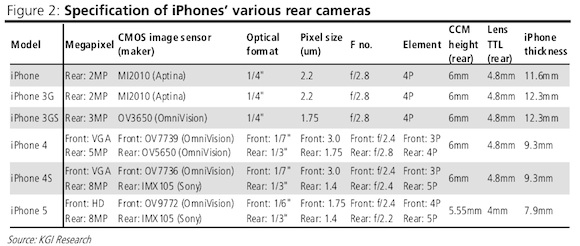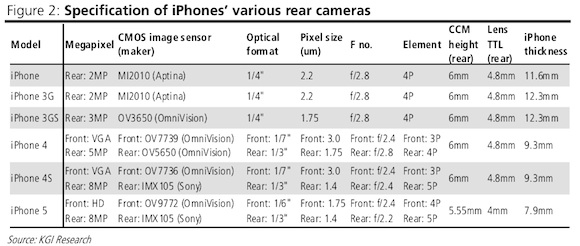 As demonstrated in recent photo and video leaks of the iPhone 5 casing, the front-facing FaceTime camera has been relocated from the side of the device to directly above the earpiece. While a minor change, this is likely to improve the user experience with more natural centered images.