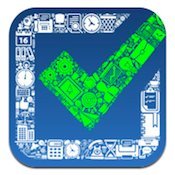 Price: $0.99     Score: 10/10     Category: Productivity
LifeTopix is a great productivity iPhone app that was developed by LightArrow, Inc. We previously reviewed LifeTopix earlier this year, giving the app a 9/10 score.
In our previous review, we noted that LifeTopix had "one of the better interfaces…in a to-do list/productivity app." We also wrote: "LifeTopix effortlessly combines your personal and professional lives into one cohesive unit…and manages to do all that without making the combined workloads seem overwhelming."
While LifeTopix remains a bit cramped on the iPhone, the latest version of the app offers some great shopping features. Plus, the new version features enhanced Dropbox and Evernote functionality.
I'll be honest: I remembered LifeTopix as being pretty good. But I didn't remember the app being quite this good. The latest version (Version 5.1.1) came out on December 3, and it made an already-great app even better. It would be a stellar deal at twice the price: at just 99 cents, it's practically grand larceny.
I love the fact that LifeTopix isn't like every other To-Do list and agenda app out there. It really is a robust tool that tracks and organizes EVERY aspect of my life. And the customer service truly can't be beat.
There's nothing to disparage here. The security is great, as are your backup options and search functionality. I also loved that LifeTopix is a universal app. iCloud sync keeps all iOS devices working in unison, and with the use of the free companion app, LifeTopix AirAccess, you can add a handy desk­top client that allows you to con­nect wire­lessly from your Mac to Life­Topix run­ning on your device.
LifeTopix was great before, but it's taken amazing strides this year and become a must-own app. The price is shockingly low for such an easy-to-use and powerful app. I can't imagine living without it now.
LifeTopix is compatible with iPhone, iPod touch, and iPad. Requires iOS 5.0 or later. This app is optimized for iPhone 5.