What is Power Clean?
Power Clean is a very compact Android device cleaner and booster. The app performs all the cleanup needs of Android devices. It deletes junk files, boosts memory, optimizes the device, and even helps manage apps, plus a few additional features that we'll discuss later. It's quite a treat to see that the app itself is just 2.0 MB.
The size of Power Clean puts it ahead of the competition. The app is free and its latest version is 2.7.18.
Power Clean – startup screen
Ease of Use
Power Clean does its job quite remarkably, with all the necessary cleanup and boost functions available right at the app's main screen. The app shows a snapshot of important information about your phone – storage, RAM usage, and CPU.
One quick look here gives users an idea as to what clean up function their phone needs. Users can then perform the necessary function by simply clicking it below. All the functions are conveniently laid out at the bottom.
Power Clean – device summary
Utility
The app also helps you manage your gallery, photo recycle bin, and even boost your games – additional features that give Power Clean our thumbs up. Other cleanup apps stop at the basic features explained above. Power Cleaner breaks this trend by going beyond simply cleaning up junk and freeing up RAM.
Interface
The entire app is colored elegantly. The default white and indigo colors give users an easy and comfortable experience. All functions are straightforward, making Power Cleaner an easy choice even for first time Android users. Overall, the app looks professional and very clean.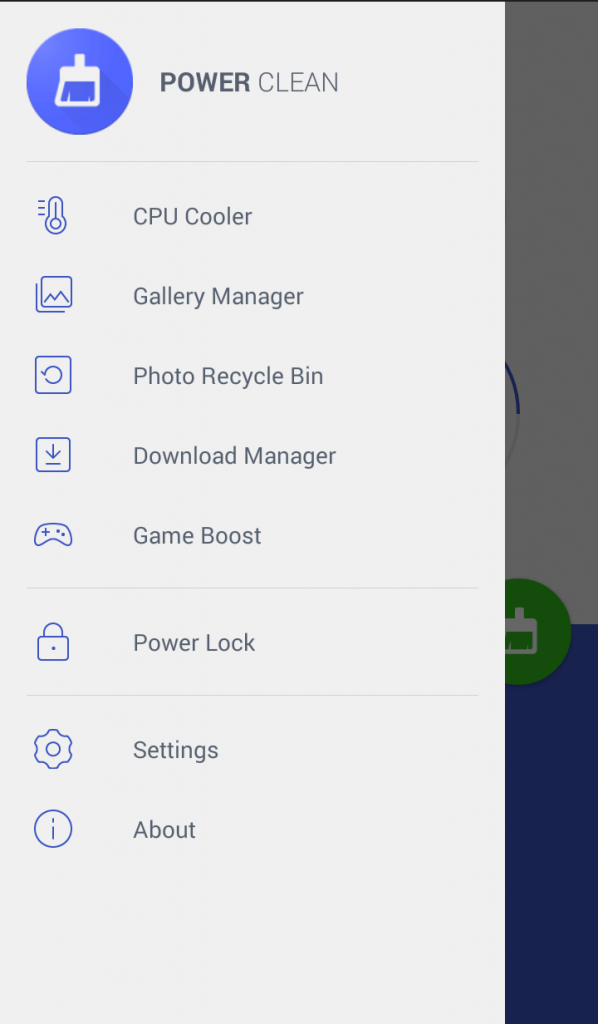 Power Clean – additional options
Final Thoughts
Compact. Effective. User friendly. It seems that the developers behind Power Clean knew exactly what most of us Android users were looking for in a cleanup app. After all, nothing beats a straightforward approach to utility apps. The simpler, the better. Power Clean is exactly that. The app is available for download at Google Play Store.
[appbox googleplay id=com.lionmobi.powerclean]