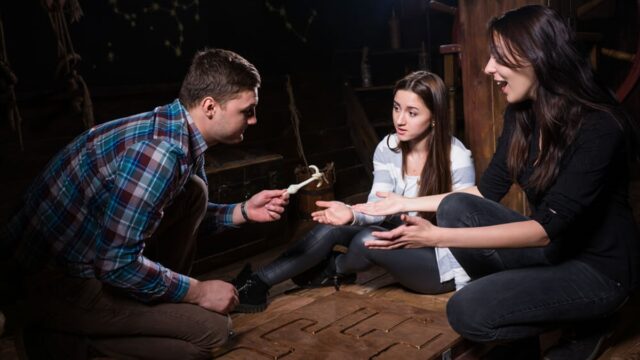 Today we want to share with all of you some simple tips (but not for that reason unimportant) that we have created so that you, as a player, use them to enhance your experience and fun in an escape room, in addition to the whole team, from the first second. "Fun places near me" are enjoyable but can you conquer them?

Whether you are an amateur or an experienced one, they will surely help you on whatever adventure you embark on.

We have listed them in order of performance, that is, from the first moment you form your team, through the introduction into the game (once in the Escape Room), until the moment of playing and acting.

We can say that they are the most important for us, at least related to situations that tend to occur more often, but they do not end here (the list can be endless).
1. Choose your Team Wisely
Come play with people you know. Affinity and rapport is essential for the development of the game. Communication between you will be greater. Avoid forming your team with diverse people who hardly know each other. Whether with your partner, your longtime friends or even with the family, it will be a good choice. All are apt to form a good group and knowing each other is always good to know how each component acts.
2. Choose Comfortable Clothes
Avoid clothing that can limit you when it comes to moving freely. Perhaps it touches bending, squatting, going through narrow places or even crawling… Heels or excessively bulky clothes are not usually good allies. It is a very important point to keep in mind, since you never know what you will find behind that door that opens before you. Don't let your discomfort put barriers to your adventure.
3. Listen to the Intro of the Game Master
Pay attention to the introduction that the game master tells you. Surely it hides some first clues or fundamental indications that will help you to start the game. We know the excitement of starting the adventure and meeting the team is fascinating, but try to be attentive, quiet and listen as he introduces you to the story. Also avoid touching the objects or the decoration while they explain the story to you, it gives a feeling of little interest on the part of the player. Don't worry, you'll have enough time to play it all as soon as the game master leaves the room.
4. Immerse Yourself in History
You play a specific role in the adventure, you will be assigned a specific role to fulfill your mission. You may have to put yourself in the shoes of a character with specific characteristics in order to think or act as she would. This will make it easier to solve the puzzles or lead you to search where you would not have imagined.

Try to forget that you are in an escape room and transport yourself to the universe of history, the environment will help you. Don't skip the details and don't solve the puzzles abstractly. Both the story of the game and the aesthetic design of the puzzles will give you indirect help so that you can solve them.

And, also, try to take advantage of the experience until the last minute. We spend a lot of time setting up our escape rooms so that you can stop and enjoy the scenery while your mission lasts. Avoid going to "time out" to enter rankings or similar, you will regret not having used those 5, 10, … spare minutes to contemplate corners of the room (remember that this activity is only done once, unfortunately for many, and you only get one chance to enjoy it). Open your eyes wide and absorb your surroundings.
5. Know how to Search
A good way to start your adventure is by collecting everything that the scenarios offer and then using it to solve the puzzles. Even the resolution of some will be based on the search for something properly.

Don't get tired of searching every corner … they often hide valuable clues. Look, search, feel …

The time may come when a room surprises you by having to use any of the 5 senses, sight does not always predominate … you may have to try something or blindly discover the shape of an object through touch, or sharpen your heart, for example.
Now, get in touch with your escape rooms!