Apple leaks have been rolling in lately, with everyone trying to predict what the next generation of iDevice will look like. Tactus recently published a leak of the budget iPhone rear casing, and this time they have a picture that shows the 5th Generation iPad Rear Shell.
It has already been speculated that the 5th Generation iPad will feature thinner bezels, similar to that of the iPad Mini, to maintain the same 9.7-inch screen size with a smaller casing, and the general appearance would emulate the look of the iPad Mini. However, not much was known about exactly what it may look like, until now.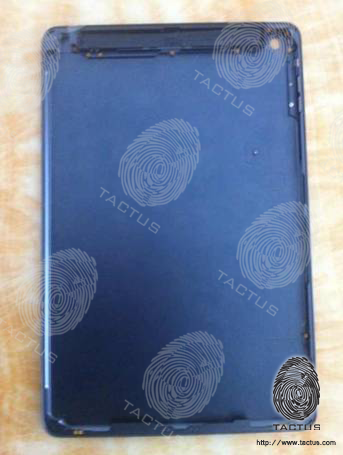 If this is indeed the rear shell of the iPad 5th Generation, then Tactus expect it will be around 7.2mm thick, contain an A7X Chip, a 8MP camera, and retain the same 9.7-inch screen size we've seen in previous generations. It is also suspected that the iPad 5th Generation may also use IGZO display technology, which wouldn't be the first time we've heard of such rumours Apple is exploring this technology.
However, with supply strains reported on most of Apple's upcoming products, the iPad 5th Generation may not see the expected July release date either and may also be pushed back to later in the year.
The iPad Mini design was extremely popular with consumers, something Apple was not too sure about given the sheer change compared with the normal iPads', but the popularity seems to have persuaded Apple to explore a similar design across its new models.
The big news here is not the fact of a rear-casing, it's that it gives us a glimpse that perhaps the IGZO rumours are true, showing a thinner casing hints that the only way to achieve this is to explore alternative display technology.
What do you guys think? Real or fake?