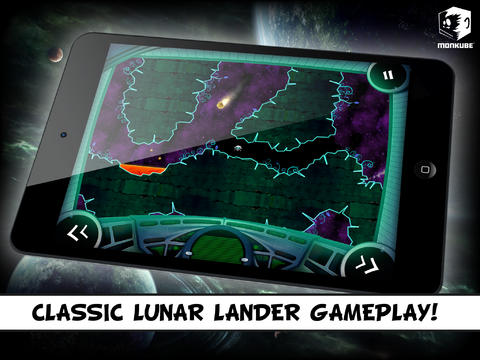 [app id="680356455″]
6th Planet is an iPhone game developed by Monkube. Part comic book, part video game, 6th Planet is 100 percent awesome.
Longtime readers will recall that this is not the first game from Monkube that we have reviewed. About a year ago, we reviewed their excellent game The Adventures of Retrobot, which was a coproduction between Monkube and Endeavor Bros Interactive Software.
Given the high marks we gave The Adventures of Retrobot, my expectations were pretty high going in to 6th Planet. Thankfully, I was not disappointed with what I found.
The comic book aspect of the game consists of a total of 70 comic book pages. The story is co-written and drawn by the studio that was responsible for the Oscar-nominated films The Triplets of Belleville and The Secret of Kells. How cool is that?
As for the game, it's equally as impressive. The controls are simple, allowing you to concentrate on  finding the best route through a dangerous outer space scene. The Story Mode contains 50 levels, divided across 7 worlds, ensuring that there is plenty of game to keep you occupied.
There is a lot to like here. The app is free to download. You can play half the story mode for free, then pay $2.99 to unlock full story mode. Any in-app purchase will get rid of the ads in the game.
There are two controls on either side of the screen. Tap left to activate the left thruster, same deal for the right. Press them at the same time to activate a thruster that will slow you down before touching down. You must reach the landing platform before you run out of fuel. It's so addictive!
Overall, 6th Planet is an excellent mobile gaming offering. It looks awesome on the iPad, and this game is tons of fun!
Want more? Check out this gameplay trailer on YouTube!
6th Planet requires iOS 4.3 or later. Compatible with iPad. NOTE: Does not run on iPad 1.