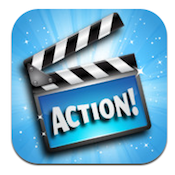 Price: FREE Score: 8.5/10 Category: Entertainment
Action! is an iPhone app that combines game and entertainment app elements. Developed by 3 Dragons Entertainment Ltd., you can act, sing, dance, and flirt your way through this game of video charades and have a lot of fun connecting with your friends.
One thing that will turn some potential users off straight away is the fact that Action! only allows you to play if you want to sign in with Facebook. For people who are Facebook abstainers, or people who just don't want to merge every single game they play throughout the day with their Facebook account, this is a huge issue. There is literally no other way to enjoy this game if you don't have a Facebook account, and hopefully this is something that will change in a future update.
That being said, the app itself is a pretty cool guessing game. Here's how it works: you can play with any friend who owns a an iPhone, iPad and iPod Touch and has the app installed. The gameplay is turn-based, so each player can play a turn at their own convenience. You have 10 seconds to act out a clue, and you then send your short video clip to your friends.
Guessing should be pretty easy, given the fact that you know if what is being acted out is a song, dance, etc. However, you can use "pop rockets" to help you if you get stumped. The content and clues change often, with new ones being added once per week. Right now, these include topical themes like Christmas, Winter Sports, Dance Styles, etc.
If you want a fun way to interact with your friends and family, this goofy, video-sharing game is a fun free app to try out.
Action!is compatible with iPhone 3GS, iPhone 4, iPhone 4S, iPhone 5, iPod touch (3rd generation), iPod touch (4th generation), iPod touch (5th generation) and iPad. Requires iOS 5.0 or later. This app is optimized for iPhone 5.