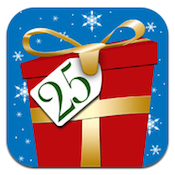 Price: FREE Score: 9/10 Category: Lifestyle
Advent 2012: 25 Christmas Apps is an iPhone app developed by MagicSolver.com Ltd. While most physical advent calendars contain a delicious chocolate morsel, this handy app houses an entirely different sort of sweet treat. Behind each window in the calendar, there is a different free app for you to enjoy!
Well, sort of. You tap on each day of the calendar, where you are introduced to a quick mini-game that ties (tangentially) into the app you are about to be introduced to. Once you get to the main event, you're basically just given a description of a Christmas-themed app, and given the option to click a link to download the app in the App Store.
It may not be a true all-in-one app, but the variety of apps and games included in this advent calendar are pretty fun. Games featured so far include Hay Day Christmas, Lords & Knights: X-MAS EDITION, Meego: The Holiday Edition, and a Christmasy-influenced version of Diamond Dash. From puzzles to social games, there is a wide variety of apps filled with holiday cheer.
You can open the different "days" on the advent calendar out of order if you like. However, you can't cheat and open the content for days in December that have yet to arrive. I do wish it was easier to see which days on the calendar had been opened: the red slash used currently is a bit hard to see.
If you want a jolly way to keep your Christmas spirit invigorated every day this month, then Advent 2012: 25 Christmas Apps is an iPhone app worth checking out. The background music is jolly, and this app is a great way to get introduced to some seasonal games that will keep you from turning into a total grinch this holiday season.
Advent 2012: 25 Christmas Apps is compatible with iPhone, iPod touch and iPad. Requires iOS 4.3 or later. This app is optimized for iPhone 5.