Price: $0.99    Score: 10/10    Category: Travel
For anyone who finds themselves in a new place with any sort of consistency, AllSubway HD is a great tool for travel. Clean and easy to navigate, this app provides all in one access to maps in North and South America, Asia, Africa, Asia, Australia, and a long list of cities in Europe. What's best is that the app doesn't rely on internet, so navigation is always in your hands.
The maps on AllSubway HD make excellent use of the iPad's large screen, allowing users to see in relative detail the extent of any city's subway system in a glance. If you wish to zoom in, all of the maps respond to normal iPad gestures for modifying its size and zoom.
Queueing up maps on the screen is as easy as utilizing the left side panel, which rests on the app's display when maps are shown in landscape mode, but added as an overlay drop down list in portrait mode. Either way, switching cities is simple and it's really cool to see the map that are used in each place's subway system.
Another cool feature about AllSubway is that maps are added with each update. What has me a little weary though, is the fact that carmat has a slightly out of date NYC subway map. Even though the MTA eliminated the V line in New York City's subway system more than a month ago, AllSubway HD has yet to document the change. As subway systems don't tend to change often, I don't expect this to ruin the value of the app. This is, after all, an incredible resource.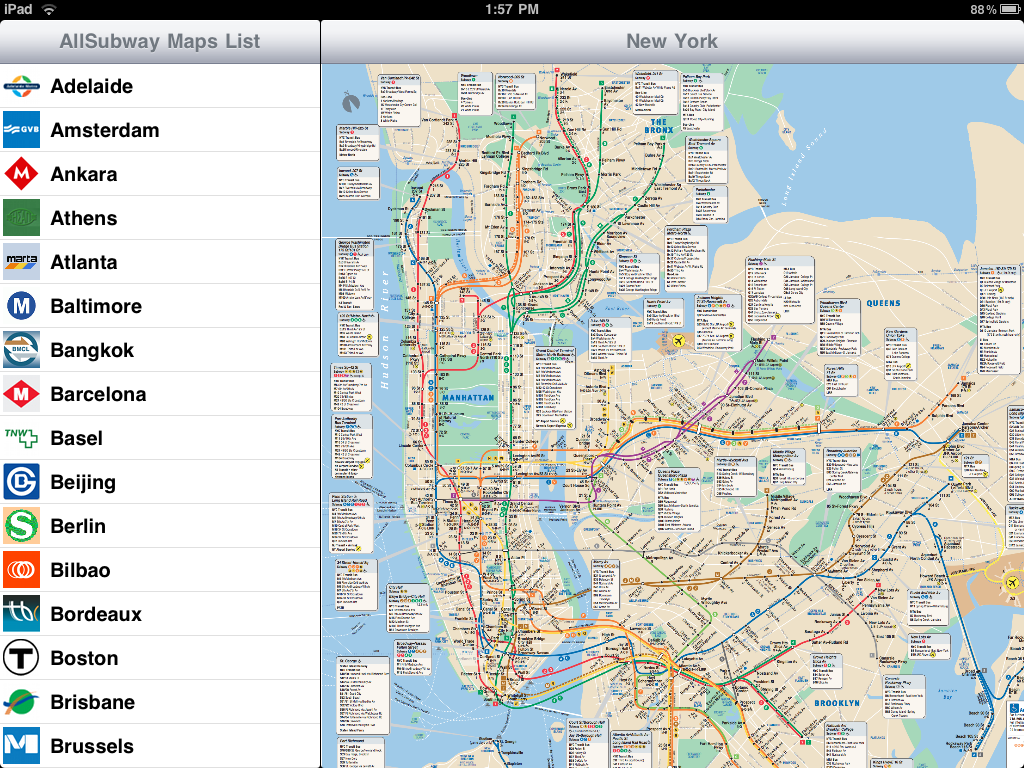 For those interested, the complete list of maps to date is included below:
Europe: Amsterdam, Ankara, Athens, Barcelona, Basel, Berlin, Bilbao, Bordeaux, Brussels, Bucharest, Budapest, Catania, Copenhagen, Copenhagen S-Tog, Frankfurt, Genoa, Glasgow, Hamburg, Hannover, Helsinki, Istanbul, Koln, Lausanne, Lisbon, London, London DLR, Madrid, Malaga, Manchester, Marseille, MerseyRail, Milan, Minsk, Munich, Naples, Newcastle, Nurnberg, Oslo, Palermo, Paris, Porto, Prague, Rennes, Rotterdam, Seville, Sofia, Stockholm, Stuttgart, St Petersburg, Toulouse, Turin, Valencia, Vienna, Warsaw, Zurich
North America: Atlanta, Baltimore, Boston, Chicago, Chicago Metra, Cleveland, Dallas, Los Angeles, Miami, Mexico City, Montreal, New York, Philadelphia, San Francisco Bart, San Francisco Muni, Silicon Valley, Toronto, Vancouver
South America: Buenos Aires, Rio De Janeiro, Santiago de Chile, Sao Paulo
Africa: Cairo
Asia: Bangkok, Beijing, Chennai, Dubai ,Guangzhou, Hong Kong, Kolkata, Kyiv, Kyoto, Moscow, Nagoya, Nanjing, New Delhi, Seoul, Shenzhen, Singapore, Taipei, Tashkent, Tehran
Australia: Adelaide, Brisbane, Melbourne, Perth, Sydney
Bottom Line: AllSubway HD's clean around the world subway collection of maps is a great travel companion for anyone ready to go paperless. 8/10